Mercedes EV boss: battery breakthrough is close
Battery range will double in the next decade, says Mercedes EV boss – opening up a world of possibilities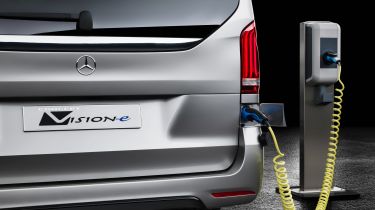 Battery technology is on the brink of a major breakthrough, according to Harald Kroger, Mercedes' vice-president of electronics and e-drive. At the Geneva Motor Show, where Mercedes unveiled the V-ision-e concept, he revealed that by 2025 he expects battery range to double for a given size and weight, giving the technology genuine mass-market appeal.
"How long before we have twice the range for the same-sized battery? Ten years," Kroger told us. "There are literally thousands of scientists working on the problem. A breakthrough happened with lithium-ion technology not long ago when it wiped out nickel-hydride, and another one will come soon."
Although he didn't point to one particular technology, he added: "We know it's doable in terms of the physics and chemistry, we know the country is out there – we just need to find the best way to get there."
Kroger backed up his claims by revealing that Mercedes' main battery suppliers are getting increasingly nervous. If it's not them that makes the breakthrough and demand for current lithium-ion batteries suddenly drops, they could be weighed down by their huge factory set-up costs and forced out of business. For this reason, Kroger believes Tesla's $5billion 'Gigafactory', slated to start producing lithium-ion cells in 2017, is a huge risk.
And Tesla's problems don't end there. Not only has Audi dropped hints that it has an all-electric Model S rival in the pipeline, but Mercedes could be working on something similar, too. Kroger told us to "stay tuned, it's a little bit too early, let's see" when we asked him about it.
"You need to be careful when we talk about Tesla," he added. "In Germany, Tesla sales are a factor of 10 below expectations. But Tesla has proven a point that there's a different sector you can attack with an EV than the city cars everyone was doing up until then."
Now read more details on all the cars revealed at the 2015 Geneva Motor Show.