Mercedes B-Class Electric Drive to be axed later in 2017
Mercedes will end production of its electric MPV later this year, ahead of new small cars on MFA2 in 2018 and EQ electric cars in 2019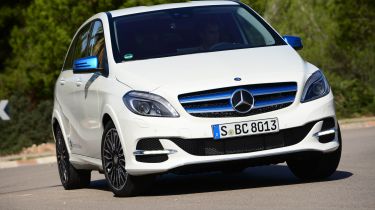 Mercedes-Benz will soon stop production of the B-Class Electric Drive to make way for the firm's upcoming EQ branded range of electric vehicles.
The Mercedes-Benz B-Class Electric Drive was the first mass produced Mercedes to be fully electric, but Auto Express understands it will be axed from the firm's line-up in Q3 of 2017.
• Best electric cars on sale 2017
Fewer than 200 have been registered in the UK since it hit the market in 2014, and its removal from the Mercedes line-up leaves the Electric Drive versions of the Smart ForTwo and ForFour as the only fully electric vehicles currently built by Mercedes.
Due to Daimler purchasing a 10% stake in Tesla in 2010, the B-Class Electric Drive's electric powertrain was co-developed with and partially sourced from Tesla. The battery has a range of 124 miles on the NEDC scale, while the motor produces 179bhp, meaning the B-class Electric Drive manages a sub eight second 0-62mph dash.
Mercedes has since sold its shares in Tesla and the move to end B-Class Electric Drive will fire the starting gun on a new era of electric vehicles to rival Tesla under the Mercedes badge. The firm plots to begin manufacturing cars under its new all-electric 'EQ' sub brand before the decade is out. The new electric brand will see Mercedes selling over 10 different fully electric cars by 2022, using an all-new, dedicated, scalable platform architecture specifically for electric vehicles.
The EQ brand is also part of a plan to build a €500m lithium ion battery factory in Germany, to support the higher battery production volumes.
Mercedes says that the plan will also include the electrification of vans, truck and buses in the future.
The first EQ model to be launched will be a mid-size crossover in 2019, previewed by the Generation EQ Concept revealed at the Paris Motor Show last year. It will cost about the same as a well-equipped GLC and have a range of around 300 miles.
Will Mercedes' upcoming EQ cars be good enough to take on Tesla? Tell us your thoughts in the comments.
Get the latest electric car news, reviews and analysis on DrivingElectric.com