Mercedes S63 AMG Coupe revealed
The wraps have been pulled off the new Mercedes S63 AMG Coupe at a live event the night before the New York show
This is the Mercedes S63 AMG Coupe, a hotter version of the already sporty S-Class Coupe, and it's been officially revealed at a private event the night before the New York Motor Show, before going on sale at the end of the year.
Built as a replacement for the CL63 AMG, power comes from the same 577bhp 5.5-litre twin-turbo V8 found in the S63 AMG saloon, developing 900Nm of torque. Mercedes' seven-speed Speedshift automatic box sends all of that power to the rear wheels – buyers can also opt for the 4MATIC all-wheel drive system.
As well as an extra 40bhp over its predecessor, the S63 AMG Coupe is 65kg lighter, with Mercedes claiming a kerbweight of 1,995kg. The weight savings are largely down to a range of lightweight construction techniques, including an aluminium front end and outer skin, plus new AMG alloys and a refined lithium-ion battery.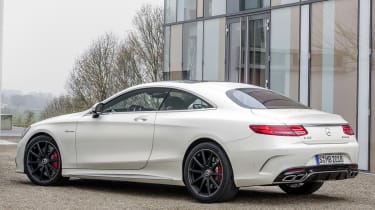 The rear-drive Coupe deals with the sprint from 0-62mph in 4.3 seconds, while the four-wheel drive version gets there in 3.9 seconds. Mercedes claims economy of 27.9mpg and 27.4mpg for each model respectively. The top speed is electronically limited to 155mph.
If revised performance boundaries weren't enough, depending on driver setup the S63 AMG Coupe will also sound different, thanks to automatic 'logic-controlled' exhaust flaps in the rear silencers. In Controlled Efficiency mode, the flaps remain closed, toning down the V8's grunt. Opt for Sport or Manual however, and the flaps open sooner giving a more raucous exhaust note.
Mercedes' hot new coupe is also the first production car to offer buyers the option of an innovative curve tilting function, something which Mercedes claims to allow the Coupe to 'lean into bends in a manner similar to a motorcyclist or skier'. The system is active between 19mph and 112mph, designed to give a more comfortable driving experience for passengers. Like the standard Coupe, the Magic Body Control system comes as standard.
Official pricing will be announced closer to the car's launch but the S63 AMG will become the most expensive model in the line-up - expect prices to start at around £110,000.