Mercedes S-Class Coupe video review
The Mercedes S-Class Coupe may be the most comfortable big coupe, thanks to superb comfort and groundbreaking tech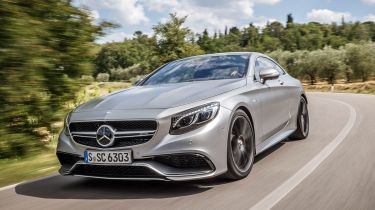 Mercedes has a tradition of building fast, elegant coupes and traditionally it's always launched them with some sort of ground breaking technology. And it's the same story with the S-Class Coupe.
It's based on the new S-Class saloon and replaces the old CL. If you want one, it'll cost you from around £100,000. The bodywork is all new with sharp creases and a long bonnet, sloping roof and a neat spoiler integrated into the boot lid. The range topping S63 AMG model has a body kit and forged alloy wheels. 
All S-Class Coupe models feature intelligent headlamps, and the daytime running lights and indicator repeaters feature Swarowski crystals to produce a clearer light. They also get a glass panoramic sunroof which in no way impedes on rear practicality. The sunroof can also be specced with Mercedes' 'Magic Sky' sunroof, which darkens the glass at the touch of a button. 
It's clear than Mercedes has gone all out with the interior on the S-Class Coupe, and the cabin is different in terms of layout to the saloon. The S63 AMG models also benefit from some sporty add ons, but rest assured - every model in the line-up oozes quality. 
Like the S-Class saloon, the S-Class Coupe is supremely comfortable thanks to its air suspension, and the Magic Body Control improves this further. However, the S-Class Coupe features some new ground breaking technology called Curve Tilt Control. This system uses the car's computer controlled suspension to lean into the corner like a motorbike does in order to boost comfort.
The S-Class Coupe is also supremely quiet, despite being powered by a 5.5-litre biturbo V8 and being able to go from 0-62mph in 4.3 seconds. 
The S63 AMG Coupe also comes with upgraded suspension, upgraded brakes and an MCT gearbox. The latter isn't the smoothest system in the world, but overall, it handles very well. 
It's not an SLS though, but it's not supposed to be. It's been designed to be a very quick, gadget laden cruiser which is the most comfortable of its type on the market - and that's exactly what it is.