New Mercedes SLK to get hybrid power
Our exclusive image reveals the next Mercedes SLK, which will have a range of engines including a hybrid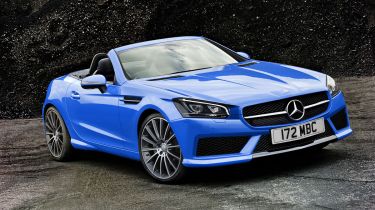 Mercedes is on a mission to improve the efficiency of its new models, which means the next-generation Mercedes SLK roadster will get hybrid power similar to the new C-Class saloon and even the option of four-wheel drive for faster versions.
Due to arrive in 2018 and revealed in our exclusive image, the new SLK will sit on the same modular sports car architecture (MSA) as the larger SL two-seater and the shared chassis will have the flexibility to take on a much wider variety of engines and drive trains than before, broadening its appeal for customers.
The third common platform after the MFA (A-Class family) and MRA (S-Class family) the MSA platform will help Mercedes save costs and bring more tech from the rest of the range into its sports cars. The SLK currently sits on its own chassis – with the lightest weighing in at 1,435kgs – but the new car will be built in the same factory in Bremen, Germany as the next-generation SL.
To ensure their retain their separate characters, the new platform will allow for different wheelbases, lengths and widths – and bring up the possibility for two different roof mechanisms – which should mean the new SLK is better equipped to take on more focussed rivals like the Porsche Boxster and Jaguar F-type.
Similarly, the MSA platform will allow plug-in hybrid technology similar to the system in the new C300 saloon to be fitted into a much smaller car like the SLK and for the first time, Mercedes' 4MATIC all-wheel drive will be offered too.
Looking further ahead, it's unclear whether the new Mercedes AMG GT coupe will switch to this platform. The first generation of the car, due to debut later this year, is being built on underpinnings related to the outgoing SLS AMG. What we do know is that the GT will be the first model to get AMG's newly developed 4.0-litre twin-turbo V8, which will also grace the new C63 and SL63 later in its life.