Mitsubishi to launch new Ford Fiesta rival
Mitsubishi Mirage replacement set to use Renault Clio platform and engines, and our exclusive image previews how it could look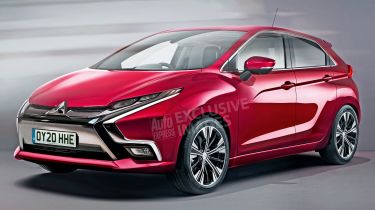 Mitsubishi is looking to use its new position as part of the Renault-Nissan Alliance to produce a Ford Fiesta-rivalling supermini. It would share its platform and mechanicals with the next-generation Renault Clio and Nissan Micra, and is expected to replace the smaller Mirage in Europe. Our exclusive image previews how the new car could look.
Speaking to Auto Express prior to last week's Tokyo Motor Show, Mitsubishi's corporate vice-president and product planning head Vincent Cobee told us: "Designing and building a bespoke platform is expensive, and the margins in the small car sector are smaller. So are we looking to use Renault and Nissan platforms in that segment? The answer is yes."
• Best superminis on sale right now
Cobee, who joined Mitsubishi from Nissan when it bought a 34 per cent stake in the firm earlier this year, admitted that launching SUVs such as the next Outlander was the "immediate priority", but that B-segment small cars made up "30 per cent of global demand". He also said it would be "extremely hard" to meet emissions regulations without a supermini.
Renault's next Clio is expected to arrive in 2018 using a new platform, and Mitsubishi will borrow that architecture, along with Renault's three-cylinder turbo petrol engine.
Mitsubishi's current UK boss Lance Bradley, who'll be stepping down from his role next March, confirmed last year that the Mirage replacement would feature a fully electric variant in the future, too. It's not clear yet whether the new small car will take the Mirage name in Britain. One potential option would be to revive the Colt badge from the brand's previous-generation supermini, which was axed back in 2013.
Do you like the look of our exclusive image? Let us know below...