e-scooter trial launches in London
The year-long scheme sees rental e-scooters allowed to be used on road, but one council has already pulled out of trials amidst issues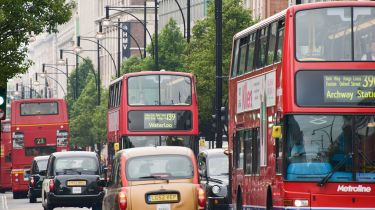 Trials of e-scooters have begun in London, with riders allowed to rent the machines from recognised schemes, and use them on the road. The use of private e-scooters on roads, pavements and in parks remains illegal, while rented scooters can only be used on the road, and are banned from parks and pavements. 
The scooters are available to rent in Ealing, Hammersmith & Fulham, The Royal Borough of Kensington and Chelsea, Richmond upon Thames and  Canary Wharf, while riders are allowed to scoot through roads in Tower Hamlets. A provisional or full driving licence is required to take part.
The City of London Corporation was due to take part in the scheme from its June 7 start, but has temporarily pulled out , delaying its participation until 5 July. Geofencing technology prevents the e-scooters from being ridden elsewhere, but more London boroughs are expected to join the 'core' group throughout the summer.
Renting the scooters costs between £3.25 and £3.40 per 15 minutes, and the machines are limited to 12.5mph. Three firms - Dott, Lime and TIER - are taking part in the scheme, and those wishing to rent a scooter should download the relevant app to their smartphone and register their details.
The capital's micromobility experiment follows the UK's first trial in Middlesbrough, which came after the Government legislated to allow e-scooters on public roads providing they are part of official trials. 
Transport Committee recommends e-scooters be legalised for road use
Privately owned and rental e-scooters should be fully legalised for use on public roads, a cross-party group of MPs has said.
The Transport Committee - which scrutinises Government transport policies - has produced a report saying e-scooters represent an affordable, accessible and eco-friendly alternative to cars.
The committee wants to see both privately owned and rental e-scooters - which can currently only be used on private land or as part of official trials - legalised for use on public roads, though the MPs say this should not be to the detriment of pedestrians, particularly those with disabilities.
With that in mind, the committee says there need to be enforcement measures to eliminate the use of e-scooters on pavements. Furthermore, it calls for a sensible and proportionate regulatory framework for the legal use of the vehicles.
The Transport Committee has emphasised that if the Government does fully legalise e-scooters, their use must only be encouraged as an alternative to short car journeys, and people should continue to walk or cycle.
The committee also says riders should not need any form of licence, and that speed limits should be set by individual local authorities rather than central Government. It also says collision types and frequency should be monitored, as well as where the scooters are left.
Huw Merriman MP, chair of the Transport Committee, said: "E-scooters have the potential to become an exciting and ingenious way to navigate our streets and get from place to place. If this gets people out of the car, reducing congestion and exercising in the open air, then even better."
Edmund King, president of the AA, commented: "E-scooters, as a new form of micro-mobility, can really help to transform the urban landscape - improving flexibility of personal travel, especially in the shadow of the Covid-19 pandemic making public transport problematic in many instances. We support the legalisation of e-scooters for use on the public highway, as long as certain safety criteria are met.
"As the safest option, we would support the use of e-scooters on extended dedicated cycleways and recommend some form of training before setting off on the public highway. We also believe that safety features, such as larger front wheels, directional indicators, brakes and lights, must be required to ensure a safer riding experience.
"The AA gave evidence to the select committee and we broadly support their findings, although we believe that speed limits should be agreed nationally rather than locally."
What is the law around e-scooters?
Before trial schemes were put into place, e-scooters could be legally purchased in the UK, but were banned from public roads, cycle lanes and pavements, effectively restricting their use to private land - although all that still remains the case for privately owned e-scooters. 
The fastest e-scooters on the market have a top speed of around 40mph. Countries such as France, Germany and Denmark require scooters to be limited to 12.5mph, but other EU nations allow them to reach 18mph or more.
RAC head of roads policy Nicholas Lyes previously said: "While drivers are lukewarm about the idea of having e-scooters on roads, they also often tell us they would like to have cheap, reliable alternative forms of transport, so the Government is right to look at different ways for us to get around in congested cities.
"E-scooters could provide that alternative for short trips, though their safe use must always be the number-one priority. For example, it makes sense that these devices have safety features like reflectors and speed limiters fitted, and that options such as insurance and training are carefully looked at to see if they can bring additional safety benefits. The Department for Transport might also need to look at changes to the Highway Code to accommodate new forms of road transport."
Click here for our list of the best electric scooters...