Drones and e-scooters to be tested by Government in major UK cities
Government to spend £90 million on three new future transport zones, where innovations such as drones and e-scooters will be tested.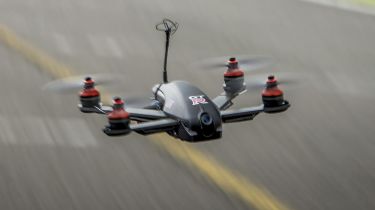 Futuristic transport solutions are to be tested in UK cities, under new plans announced by the Government.
The Department for Transport - along with the Department for Business, Energy & Industrial Strategy - is investing £90 million in three new future transport zones, where experts can work with local bodies - such as councils, hospitals, airports and universities - to conduct real-world testing of new transport solutions.
The three new zones are to be set up in Portsmouth and Southampton, the West of England Combined Authority, and Derby and Nottingham. One future transport zone already exists in the West Midlands.
One of the transport solutions to be tested in the new zones are drones, which will be used to carry medical supplies from the Isle of Wight to hospitals in Portsmouth and Southampton. The idea is that this will ease congestion by reducing the use of roads and ferries.
Electric scooters - also known as e-scooters or PLEVs (personal light electric vehicles) - are also to be looked at to make sure they're safe for use on UK roads. Requirements such as age restrictions, vehicle standards and insurance are all to be considered. The tests will also consider whether local authorities would need to be given powers to manage the impact of e-scooters on public spaces, particularly with regards to where they're parked.
The news comes as the Government announces a consultation into making transport "easier, smarter and greener" as part of the Future of Transport regulatory review. This will consider how changes to travel decisions can be made, and whether people could walk, cycle, take the bus or use a scooter instead of driving.
Grant Shapps, Secretary of State for Transport, said: "We are on the cusp of a transport revolution. Emerging technologies are ripping up the rulebook and changing the way people and goods move forever.
"Our groundbreaking future of transport programme marks the biggest review of transport laws in a generation and will pave the way for exciting new transport technology to be tested, cementing the UK's position as a world-leading innovator.
"This review will ensure we understand the potential impacts of a wide range of new transport modes such as e-scooters, helping to properly inform any decisions on legalisation. Funding these new zones across the country will also help us safely test innovative ways to get around, creating a greener future transport system for us all."
Do you think the use of drones and electric scooters will help? Let us know your thoughts in the comments below...