Rental e-scooters now legal on public roads
Rental e-scooter trials to began on 4 July, with riders advised to wear helmets and stay off pavements; scooters limited to 15.5mph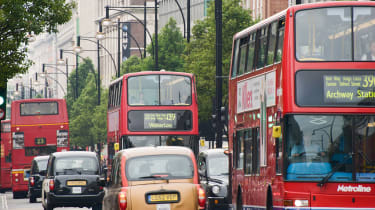 It is now legal to ride e-scooters on public roads in Great Britain - as long as the scooters are rented from companies rather than being privately owned, and riders are over the age of 16, with a full or provisional driving licence. The scooters will be limited to 15.5mph.
This is the first time e-scooters have been allowed onto public roads, and the move comes as the Government accelerates and expands trials as it attempts to solve the incompatibility of social distancing with public transport. The e-scooters will be rented via a smartphone app, and users will be allowed to ride them on the road, and in cycle lanes.
The Department for Transport (DfT) has confirmed that, as with bicycles, e-scooter riders do not have to wear a helmet - although they are encouraged to do so for their own safety. Trial participants are also be forbidden from riding on the pavement.
Riders also need to be over the age of 16 and possess a full or provisional car, motorcycle or moped licence. Only rental e-scooters operated by businesses are allowed during the trial, as the DfT wants to "avoid a flood of poor quality scooters onto the streets". The Government has emphasised that privately owned e-scooters are still illegal on public roads during the trial period.
Transport minister Rachel Maclean said: "As we emerge from lockdown, we have a unique opportunity in transport to build back in a greener, more sustainable way that could lead to cleaner air and healthier communities across Great Britain.
"E-scooters may offer the potential for convenient, clean and cost-effective travel that may also help ease the burden on the transport network, provide another green alternative to get around and allow for social distancing. The trials will allow us to test whether they do these things."
What is the law around e-scooters?
Before the trial was put into place, e-scooters could be legally purchased in the UK, but were banned from public roads, cycle lanes and pavements, effectively restricting their use to private land - although all that still remains the case for privately owned e-scooters.
The fastest e-scooters on the market have a top speed of around 40mph. Countries such as France, Germany and Denmark require scooters to be limited to 12.5mph, but other EU nations allow them to reach 18mph or more.
RAC head of roads policy Nicholas Lyes previously said: "While drivers are lukewarm about the idea of having e-scooters on roads, they also often tell us they would like to have cheap, reliable alternative forms of transport, so the Government is right to look at different ways for us to get around in congested cities.
"E-scooters could provide that alternative for short trips, though their safe use must always be the number-one priority. For example, it makes sense that these devices have safety features like reflectors and speed limiters fitted, and that options such as insurance and training are carefully looked at to see if they can bring additional safety benefits. The Department for Transport might also need to look at changes to the Highway Code to accommodate new forms of road transport."
Do you think electric scooters should be legalised? Let us know in the comments below...