Parking spaces with electric car chargers should have green signs
Having different coloured signage for parking spaces with EV chargers would make them stand out and help prevent 'ICE-ing'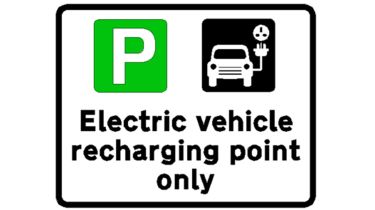 Parking spaces with electric car chargers should have green signage to make them stand out, eight out of 10 drivers say.
A significant obstacle to electric car ownership is a perceived lack of public charge points, even though there are more of these than there are fuel station forecourts in the UK. With this in mind, 85 per cent of 17,628 AA members who were surveyed in February 2020 said that parking spaces fitted with EV chargers should be given special green signage in order to make them stand out.
The standard sign for an EV charging bay, as approved by the Department for Transport, uses a standard blue 'P' symbol. An alternative design, created by AA Signs, changes this to green. It is thought that this will increase driver awareness of EV charging bays and help prevent 'ICE-ing' where a petrol or diesel car parks in such a bay, preventing EV drivers from charging.
It follows 89 per cent of 17,643 AA members surveyed in December 2019 agreeing that there should be a single universal sign to indicate where EV charging points are located.
Jack Cousens, head of roads policy at the AA, commented: "Drivers believe there are a lack of charging points, but the case is they are hidden in plain sight. While fuel forecourts have the benefit of large totem poles, charge points can blend into the background.
"Changing to a green parking sign will help them stand out and reassure drivers who are thinking about buying an EV that there are more charge points than they think.
"We have also seen that charge points keeping the blue parking sign have accidentally fooled drivers into parking in a charging bay and have 'ICE'd-out' electric cars. It may seem such a simple, low key change but sometimes it's all that's needed to help make a big difference."
Check out all the new cars due before the end of the year...