Car use rising despite coronavirus lockdown
New data shows there was a 23 per cent increase in daily miles driven in the UK between the first and last weeks of April 2020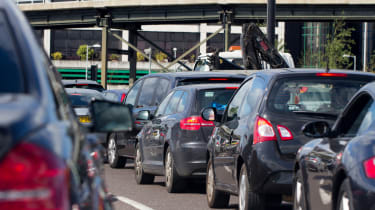 Car use in the UK is on the rise, in spite of the fact the country's coronavirus lockdown has not yet been lifted.
Comparing the second week of lockdown - commencing 30 March - with the week commencing 27 April, the number of cars on the UK's roads increased by 11 per cent, while the number of daily miles covered rose 23 per cent, according to analysis of data from hundreds of thousands of trips taken by RAC Black Box Insurance customers.
RAC patrols have seen an 18 per cent increase over the same period in the number of breakdowns they're attending. Furthermore, more routes were planned using the RAC Routeplanner on Monday 5 May than at any point other during lockdown, journey planning increasing by 16 per cent compared to the previous Monday of the previous week.
The RAC conducted a survey of 1,534 drivers between 29 April and 5 May, of whom 41 per cent said they were now using their vehicles more often than they were earlier in the lockdown.
Some 23 per cent said they were using their car more for food shopping, while nine per cent were spending more time on the road to pick up essential supplies, such as pharmaceuticals. Five per cent said their extra journeys were for picking up alcohol, and the same proportion were using their cars to visit DIY stores.
Nicholas Lyes, head of roads policy at the RAC, said: "There is now mounting evidence that people are venturing back out in their vehicles for more essential, as well as arguably non-essential journeys."
He added: "Even where drivers need to head out to pick up food shopping, this should be done as infrequently as possible to help stop the spread of the virus. The question drivers should ask themselves before venturing out is: 'Do I really need to?'
"By only using the car for essential journeys at this time, we're not only helping prevent the virus spreading, but are also reducing the risk of being involved in a road collision and avoiding putting any further pressure on the NHS."
Click here for a chance to win a £25 Amazon voucher by answering a few questions on how lockdown has affected your car-buying process...