MG and Tesla were the only car makers to increase sales last year
New-car registrations hit a 30-year low in 2020, but two manufacturers managed to buck the trend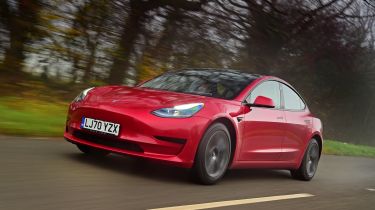 New-car registrations may have been hit by the coronavirus pandemic - to the tune of a 29.4 per cent slump, with 680,076 fewer vehicles finding homes last year compared to 2019 - but two manufacturers managed to increase their sales in 2020.
MG saw 18,415 new cars registered in the UK last year, up from 13,075 in 2019 - a 40.84 per cent increase, according to figures released by the Society of Motor Manufacturers and Traders (SMMT).
Tesla registrations are harder to pin down, as the company does not list national sales breakdowns, but a total of 26,086 'other imports' are listed in SMMT's registration data for last year, up from 14,635 in 2019 - a 78.24 per cent rise. 
We do know, however, that 22,344 examples of the Tesla Model 3 were registered last year, with the EV being December's top-selling car, and the 14th best-selling car for the entire year, according to SMMT. Auto Express understands the vast majority of those 'other imports' were also Teslas.
With dealerships closed for much of the year due to lockdowns and low consumer confidence, every other major car maker that sells in the UK saw registrations fall in 2020, some by significant amounts. Subaru was hit by a 68.27 per cent decline, shifting just 951 cars, down from 2,997 models in 2019.
Citroen, meanwhile, experienced a 44.77 per cent slump, with Mazda, Suzuki, Mitsubishi and Hyundai all experiencing similar declines. Even Ford - maker of the Fiesta, Britain's best-selling car - wasn't immune, experiencing a 35.3 per cent drop in sales overall. And while Bentley enjoyed its best-ever year globally in 2020, selling 11,206 cars for a two per cent rise on 2019, in the UK the luxury car maker's figures were down 16.18 per cent, with 1,337 registrations. 
Tesla's success is easy to pin down, with its well-established online sales model largely unaffected by lockdown, and its contactless delivery system being a relatively straightforward change to implement. 
MG's sales increase in the face of the pandemic can be explained both by a rapidly growing model range, and the success its affordable EVs have enjoyed. As with Tesla, MG EVs have been well-placed to take advantage of market trends that saw registrations of electric cars rise 185.9 per cent in 2020.
Click here for find out the best-selling cars in the UK in 2020...