Number of rapid electric car chargers in UK up 37% in 2020
Government data shows continued growth in the UK's EV charging infrastructure, but warns of uneven regional distribution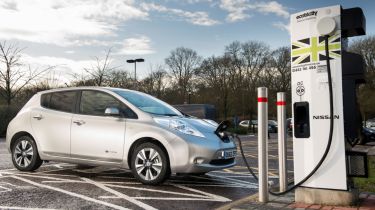 The number of public rapid electric vehicle chargers in the UK grew 37 per cent in 2021, according to new official figures.
As of 4 January 2021, there were 20,775 public EV chargers of all types in the UK - up by a quarter in 2020 - of which 3,880 were rapid devices. In the fourth quarter of 2020 alone, 1,288 chargers were installed, including 350 rapid devices.
However, the data released by the Department for Transport in conjunction with Zap-Map also revealed an "uneven geographical distribution" of public EV chargers in the UK. Across the whole of the UK, there are 31 public chargers per 100,000 people. Broken down by nation, that's 31 per 100,000 in England, 26 in Wales, 40 in Scotland and just 17 in Northern Ireland.
There's also a disparity between different regions in England. London has 69 public chargers per 100,000 people - more than anywhere else - followed by the south-east (31) and the south-west (28). Joint-lowest are the north-west and Yorkshire and the Humber, both of which only have 19 chargers per 100,000 people, while the West Midlands has 20 per 100,000.
Rapid charger rollout
There are 5.8 rapid chargers per 100,000 people in the entire UK. Scotland has 10 per 100,000 people, which is a higher proportion than any other nation or region. England has 5.7 per 100,000, Wales has 3.2 and Northern Ireland has just 1.1.
The south-east of England has the highest proportion of rapid chargers in the nation, with 6.9 per 100,000 people, followed by the north-east with 6.4 and the south-west with 6.1. The north-west has the least with 4.4 per 100,000 people.
The number of public chargers in each region increased in the fourth quarter of 2020, except for the north-east of England where the number actually went down by 3.4 per cent. The DfT explained: "Owners and operators can choose to temporarily or permanently decommission or replace devices, or they can be unavailable due to faults, maintenance or other restrictions in the area where they are located."
Wales saw the largest percentage increase in chargers in Q4 2020 - up 19 per cent - while London installed the most chargers with 500 new devices.