Plans for second UK battery gigafactory to be built in Coventry
City council and airport form partnership aiming to build £2bn battery production facility, creating thousands of jobs in the West Midlands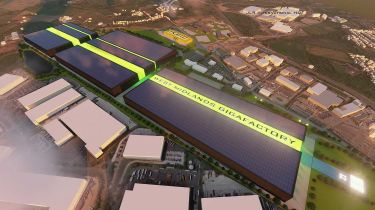 The UK's second gigafactory could be built in Coventry if plans for a site next to the city's airport come to fruition.
Coventry City Council and Coventry Airport have formed a joint venture partnership to submit a planning application this year and plan to raise £2 billion for a battery gigafactory, working with battery suppliers and automotive manufacturers to secure investment.
The scheme would create thousands of jobs in the West Midlands, a hub for the automotive sector where firms including Jaguar Land Rover, Aston Martin Lagonda, BMW and LEVC have bases.
The Government is actively looking to secure a second gigafactory investment in the UK - £500 million of funding has been made available for this, which Coventry will be bidding for as part of its plan.
Sites such as the proposed Coventry gigafactory are likely to be fundamental to future automotive manufacturing in the UK, as the Brexit deal means that by 2027, 55 per cent of an electric car's value must be built in the UK or European Union in order for the vehicle to remain exempt from import and export tariffs.
The UK has already secured its first gigafactory investment, with Britishvolt building a £2.6 billion facility in Northumberland. This will be up-and-running by 2023, and will operate at full capacity by 2027, by which time it will be producing 300,000 lithium-ion battery packs a year, and will have created 3,000 jobs directly and 5,000 in its wider supply chain.
The West Midlands Combined Authority - led by West Midlands Mayor Andy Street and comprising the region's seven urban councils - has formally endorsed Coventry Airport as the preferred site for a gigafactory covering 4.5 million sq ft of commercial space.
Commenting on the plan, Street said: "The West Midlands is the natural place for a UK gigafactory, as we are already home to the country's biggest car manufacturer, Europe's largest research centre, the UK's only battery industrialisation centre, and a world-leading supply chain."
He added: "The next step is to submit the case to Government to win the funding required, and discussions are already well underway with the UK's leading car makers and battery suppliers across the globe to put together the strongest bid possible."
Check out the best electric car chargepoint providers here...