More electric cars on the road than diesels by 2030, drivers predict
Survey suggests that motorists think EVs will make up 19.8 per cent of cars on the UK's roads by 2030, while diesels will account for 16.8 per cent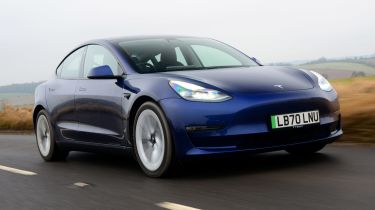 Drivers in the UK predict that there will be more electric cars in the UK than diesels by 2030, but petrol-engined cars will still be the most common, according to new data.
The AA conducted a survey of 12,977 drivers who believe that in 2030 - when the sale of new conventional petrol and diesel cars is set to be banned in the UK - EVs will make up 19.8 per cent of cars on the road, even though in December 2019 they only made up 0.3 per cent.
It's therefore predicted that diesel will have been overtaken, falling from a 39.1 per cent share of the UK car parc in December 2019 to 16.8 per cent in 2030. Petrol is still expected to be the most popular fuel type, but drivers think its share will drop from 58.5 per cent to 30.2 per cent.
Respondents also predicted a boom in UK car parc share for hybrids, new examples of which will be allowed to remain on sale until 2035 if they are capable of travelling a "significant distance" in zero emission mode - a term the Government has yet to define.
Conventional hybrids will make up 13.7 per cent of the car parc in 2030, drivers predict, while plug-in hybrids and range extenders will make up 11.7 per cent. In addition, it's thought hydrogen-powered cars will account for 5.1 per cent of the parc, despite hydrogen cars not currently being widely available and the fact there are only a handful of hydrogen filling stations in the UK.
EV sales soared in 2020, with 108,205 new examples registered, and manufacturers are stepping up their games. Jaguar is to become an all-electric brand by 2025, while Land Rover is not only to launch EVs but will also trial hydrogen technology. Ford has also confirmed its entire European passenger car range will be electric by 2030.
| | | | |
| --- | --- | --- | --- |
| Fuel type | UK car parc at end of December 2019 | Predicted UK car parc at January 2030 | Difference |
| Petrol | 19,236,721 | 9,930,982 | -9,305,739 |
| Diesel | 12,852,314 | 5,524,519 | -7,327,795 |
| Electric | 90,585 | 6,511,041 | 6,420,456 |
| Conventional hybrid | 521,891 | 4,505,114 | 3,983,223 |
| Plug-in hybrid/range extender | 156,390 | 3,847,433 | 3,691,043 |
| Hydrogen | 183 | 1,677,086 | 1,676,903 |
| Other | 25,963 | 887,869 | 861,906 |
Edmund King, president of the AA, commented: "Over the next nine years, electric cars could supercharge the way we drive. There is clearly a desire from drivers to own them. EVs will play a significant role in the future.
"Everything is working in favour of electric cars. The range of a single charge is constantly improving, the purchase and leasing prices are becoming more affordable, more models and styles are reaching the market and investments in chargepoints are being made.
"Electric vehicle technology has the ability to unlock much more than greener motoring; providing the chance to create new jobs and opportunities. More should be done to spark the EV revolution, such as scrapping the VAT on electric cars costing less than £50,000 and the construction of numerous gigafactories."
What are the best electric cars on sale? Check out our list of the top 10 right here...