Highways England launches 'Go left!' smart motorway safety campaign 
Advertisement follows instruction from Transport Secretary to improve safety on and confidence in smart motorway network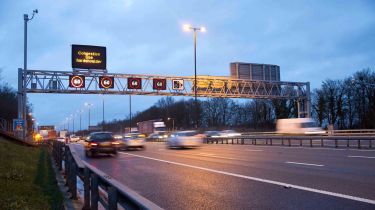 Highways England has launched a new multi-million pound safety campaign, urging drivers to "Go left!" if their vehicle breaks down on a motorway.
The adverts come after the Transport Secretary "called on Highways England to deliver the campaign to improve safety and public confidence on smart motorways".
With 600 UK car journeys involving a breakdown each day, the Government-owned company responsible for England's motorways and major A roads has used the tune from the Pet Shop Boys' cover of the hit song "Go West" to remind drivers that they should steer left on to a hard shoulder if their vehicle runs into mechanical difficulties or, on a smart motorway, move over to the nearest emergency refuge area. 
The campaign is part of an 18-point action plan published by the Department for Transport in its smart motorway evidence stocktake last year. It follows years of criticism and concerns relating to smart motorways, which are a cheaper method of reducing congestion than road widening or building, and also allow for traffic-capacity increases in areas where network extension isn't physically or geographically possible. Despite a number of high-profile accidents and tragedies, and an increase in risk in one area, data indicates that smart motorways are safer overall than conventional versions of the road. 
There were nearly 230,000 breakdowns on the Highways England network in 2019, including 207,500 on motorways. In the 12 months from June 2019, approximately 40,000 breakdowns were caused by tyre problems, while more than 6,000 were a result of vehicles running out of fuel.
If your car breaks down on a motorway and you can't turn off at an exit, Highways England advises you to indicate left on to the nearest hard shoulder, emergency refuge area or motorway service station. Switch your hazard warning lights on and, if it's dark, turn on your side lights and fog lights.
If it's safe to do so, you should get out of your car and get behind a safety barrier. Watch out for uneven ground and debris when stepping on to a verge.
Edmund King, president of the AA, commented: "This welcome new campaign reminds drivers to 'Go left!' should their vehicles develop faults and if possible, get off the motorway. However, if they can't, then they should head for the next emergency zone."
King added, however, that basic roadworthiness checks could prevent many breakdowns. "Some breakdowns can be avoided completely, so drivers should take five minutes before setting off to ensure their tyres are inflated correctly, that they have enough fuel or electric charge and that engine fluids are topped up."
Check out our explainer on smart motorways here...