Mitsubishi confirms motorsport return with Ralliart brand
Mitsubishi is planning a return to racing which will spill over into its production vehicles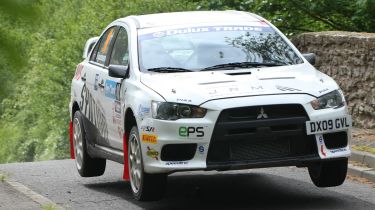 Mitsubishi has confirmed it will soon revive its Ralliart high-performance division and return to the world of motorsport, in a brief announcement buried at the back of its 2020 financial report.
The brand's CEO, Takao Kato, gave a short overview of the revival, saying: "For customers who wish to experience our Mitsubishi-ness, we will launch custom-made accessories for our model line-up as well as re-entering motorsport events around the world."
We're still unsure of the exact details but we expect the brand could return to the Dakar rally with a specially modified version of one of its new SUVs or the L200 pick-up.
As part of the revival, Mitsubishi will also introduce a new range of Ralliart-branded add-ons for its road car line-up. Aggressive body kits, larger spoilers, mudflaps, roof racks and decal sets could all make the options list, although it remains to be seen whether there'll be any performance additions.
Either way, the UK won't get any of Mitsubishi's new products. The Japanese company is standing firm on its decision to leave the British market, despite having recently struck a deal with Renault which will see the French brand produce two "sister vehicles" for Mitsubishi on European soil.
Mitsubishi's Ralliart division was founded in 1983 by Andrew Cowan under the temporary name "Andrew Cowan Motorsports." It enjoyed success in the late 80s with the Galant VR-4, but it wasn't until the late 90s that the tuning firm found its feet in the World Rally Championship with its version of the Lancer Evolution.
During its time at the top, with Finn Tommi Mäkinen piloting its cars, Ralliart snapped up four consecutive World Rally Championship titles with the Lancer Evolution III, IV V and VI. The tuning firm has also claimed 12 wins in the Dakar rally since 1982.
Mitsubishi stopped funding the tuning company in 2010, citing financial pressures. By that time, the company had been out of the WRC for three years.
The revival of the Ralliart brand comes as Mitsubishi reports a loss of 312 billion yen (roughly £2 billion) for the 2020 financial year. 
Now read all the latest news on the fourth-generation Mitsubishi Outlander here…