Government offers £200k for 'iconic' EV chargepoint design
Office for Zero Emission Vehicles seeks design that will make public EV chargers "a piece of iconic British street furniture"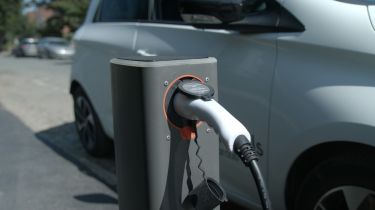 The Government is advertising a contract worth £200,000 for a design team to develop an public electric vehicle chargepoint that will become similarly iconic to the UK's traditional red phone and pillar boxes.
Details listed online by the Office for Zero Emission Vehicles (OZEV) - part of the Department for Transport (DfT) - say the brief is to develop an "iconic, functional public EV chargepoint" that has the potential to become "a piece of iconic British street furniture".
The design, OZEV says, will be "a guide for local authorities and companies who wish to use it", with the aim of generating "excitement" for the public EV chargepoint rollout.
A plan along these lines was initially proposed by Sir John Hayes MP when he was a minister at the DfT between 2016 and 2018. This led to Labour MP Karl Turner remarking that the successful points should be dubbed "Hayes hooks".
Commenting on the advertising of the new contract, Hayes told the Times: "We do need to think of something like the Gilbert Scott phone box or the pillar box, something that people can immediately identify and it should be something that of itself becomes a design classic.
"We shouldn't be frightened of having a design that is of sufficient quality that would look good in all kinds of places. It isn't just something that is brazenly metropolitan or its opposite."
The Government announced last year that new conventional petrol and diesel cars will be banned from sale in 2030, with hybrids following in 2035. The aim is for virtually all cars on UK roads to be electric by 2050, by which point the country is planning to be carbon-neutral.
Announcements of new EV charging initiatives are now coming thick and fast. In May alone, Ofgem revealed plans to fund 3,550 new public chargers and Pivot Power showed off its design for Europe's most powerful EV charging hub in Oxford.
Check our these top tips for charge your electric car in the UK...