Used car sales up 109% in second-best quarter on record
Total of 2,167,504 used cars were sold in second quarter of 2021, following the emergence from lockdown and spike in demand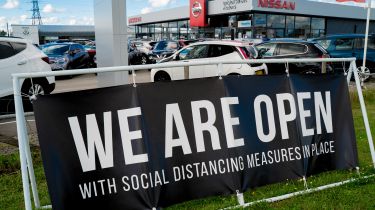 The used car market in the UK has seen its second-best quarter on record. Used car sales increased 108.6 per cent year-on-year and 6.6 per cent on pre-Covid levels, with 2,167,504 vehicles changing hands in the second quarter of 2021.
The figure is more than twice as high as the 1,039,303 used cars sold in Q2 2020, when the economy was still being throttled by the effects of the UK's first national lockdowns, but it's also well up on levels before the coronavirus hit. The growth was driven by a gradual emergence from the harshest lockdown restrictions across the UK, with a consequent increase in demand for personal mobility. New car sales, meanwhile, were hindered by the ongoing semiconductor shortage affecting supply - this led more buyers to opt for second-hand models instead, driving up prices.
On a monthly basis April saw the biggest growth of Q2 2021, with used car sales up 307.4 per cent year-on-year - up five per cent on the same month in 2019. For H1 2021, however, a 33.3 per cent year-on-year increase to 3,855,259 units actually translated to a 4.9 per cent reduction compared with H1 2019.
Best-selling used car models Q2 2021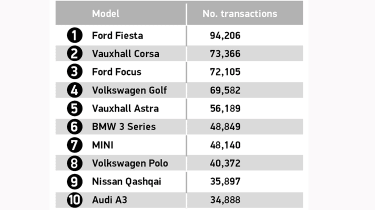 While demand for used electric and plug-in hybrid vehicles rose 353.9 per cent and 349.8 per cent respectively in Q2 2021, EVs and PHEVs still only make up 1.3 per cent of the used car market - a higher level of growth will be needed to rapidly move the UK's car parc towards zero emissions.
There's also been more demand for older cars, with just 12.7 per cent of all used cars sold in Q2 2021 being three-years-old or newer - the lowest on record. The Ford Fiesta remains the UK's best-selling used car, while black is the most popular car colour.
Mike Hawes, chief executive of the SMMT, said: "This is welcome news for the used car market, as transactions rebounded following nationwide lockdowns which closed retailers. More motorists are turning to used cars as supply shortages continue to affect the new car market, and the increased need for personal mobility with people remaining wary of public transport as they return to work.
"A buoyant used car market is necessary to maintain strong residual values, which in turn supports new car transactions. We now need to see a similar rebound in new car sales to accelerate the fleet renewal necessary to deliver immediate and continuous improvements in air quality and carbon emissions."
Have you bought a used car recently? How did conditions in the market feel to you? Let us know in the comments...