National Highways is the new name for Highways England
The Government-owned company responsible for England's motorways and major A roads changes its name and appoints a new boss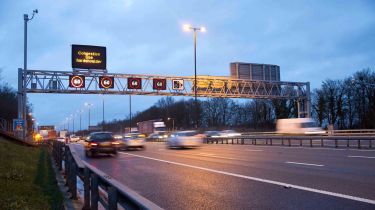 Highways England, the Government-owned company responsible for building and maintaining England's strategic road network of motorways and major A roads, has rebranded as National Highways and appointed a new chief executive.
In a statement, the company said its new name reflected its focus on delivering the Government's £27 billion strategic roads investment programme and its role in setting new highways standards for the entire UK.
In spite of this, however, the organisation will remain responsible for strategic roads in England only, with those in Wales, Scotland and Northern Ireland remaining under the supervision of their existing respective firms.
National Highways' new chief executive, meanwhile, has been announced as Nick Harris who has been at the company since 2016, serving as acting chief executive since February 2021.
Harris' two main aims will be the rollout of the strategic roads investment programme and continuing work on improving the safety of England's motorway network. Harris said he was "pleased to be taking up the reins at such an exciting time" and added: "We have achieved a great deal and there is still more to be done."
The name change to National Highways isn't the first for the organisation. The name Highways England was only selected six years ago, before which the company was called the Highways Agency.
The latest rebrand comes after a period of some controversy for the organisation. A heated debate over the safety of smart motorways has gained repeated public attention, and the company has also come under fire for the environmental impact of some of its road-building plans.
Transport Secretary Grant Shapps said: "Nick will steer Highways England into an exciting new chapter, as it evolves into National Highways and delivers on our £27 billion plan to improve our roads and make journeys safer, smoother and greener."
Edmund King, president of the AA, commented: "This seems a bizarre move as 'Highways England' describes what it does on the tin - it looks after main roads and motorways in England. It is not national in the sense that it doesn't cover the nations of Wales, Scotland and Northern Ireland.
"Drivers really don't care what it is called but they do care about having well-maintained, safe roads and motorways. Ironically many people still refer to it as the Highways Agency despite changing its name six years ago. When drivers are stuck in jams on pot-holed roads, they don't care whether the fat controller is from the Highways Agency, Highways England or National Highways, they just want the roads sorted."
Become a better driver with our How to Drive pages packed with expert advice...