Consumer safety rating for automated driving systems in development
A rating system is under development by Thatcham Research and Zenic, with the expectation it will be adopted by Euro NCAP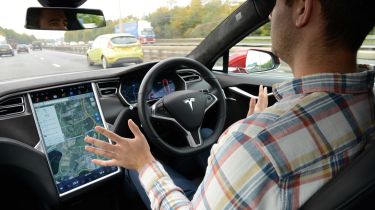 The world's first consumer safety rating system for automated driving systems is being developed in the UK, with the expectation it will be adopted by crash testers.
Thatcham Research - the UK car insurance industry's research centre and a partner of Euro NCAP - is developing the rating system with funding from Zenzic - an autonomous vehicle development organisation backed by the Government.
The "proof-of-concept" rating system will involve the use of test procedures that can be used to assess the effectiveness of connected and autonomous vehicle technologies, such as autonomous lane-keeping systems (ALKS).
In April 2021, the Government announced that ALKS - which works in conjunction with adaptive cruise control and steers a car within a lane without driver input - is to be legalised for hands-free use on UK motorways at speeds of up to 37mph, essentially limiting it to traffic jams.
Once the necessary legislation has been drawn up, which was supposed to happen before the end of the year, it will be the first time UK drivers have been legally allowed to delegate the responsibility of driving to their car in any scenario on public roads.
The Euro NCAP safety tests do examine active safety features - such as autonomous emergency braking - but autonomous driving systems such as ALKS are not assessed. This will be possible, though, if Euro NCAP adopts the new rating system.
Jonathan Hewett, chief executive of Thatcham Research, said: "The advent of automated driving promises to bring a host of benefits spanning safety, mobility and the environment. To realise this potential, we are developing an independent consumer safety rating scheme to foster confidence in the technology and its ability to control the vehicle.
"Not all automated driving systems will be made equal. Therefore, an independent consumer safety rating will drive best practice, while helping consumers to make informed choices and trust that it is safe to relinquish control."
Click here for all the latest info on driverless cars...