Mercedes-Benz and Stellantis invest in solid-state battery firm
US-based Factorial Energy has joined forces with Daimler and Stellantis to accelerate development of the range-boosting electric car tech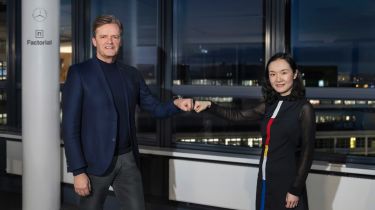 Mercedes-Benz and Stellantis have become the latest carmakers to invest in a US-based solid-state battery specialist, with the hope of advancing the tech for use in electric vehicles. 
US-based firm Factorial Energy also partnered with Kia and Hyundai last month for the same reason. The agreements with all four car brands will see them make significant investments in Factorial Energy. Although the figures are not disclosed, Mercedes-Benz's chief operating officer, Markus Schäfer, claims it is investing a "high double-digit million dollar amount". 
The multiple agreements and investments should help Factorial Energy commercialise its solid-state battery technology. Mercedes-Benz plans to use the batteries in "a limited number of vehicles as part of a small series within the next five years", with the first prototypes tested as early as next year. 
Stellantis, meanwhile, has an existing target of having "the first competitive solid state battery technology" introduced into an electric vehicle by 2026. Hyundai and Kia are yet to officially commit to a date, but expect a similar timeline given Factorial Energy's testing programme is in advanced stages. 
Solid-state batteries, which use an electrolyte made out of solid material instead of the more common liquid electrolyte, are claimed to offer 'significantly' optimised battery safety, while also increasing energy density. New types of anodes, such as lithium-metal anodes, could be used in solid electrolytes to nearly double the energy density when compared to today's lithium-ion battery cells. 
The battery tech therefore promises to substantially increase the electric car range possible in a battery pack without increasing its size and weight. Factorial claims this could increase range by up to 50 per cent. It should also ensure faster charging rates are possible. 
Factorial reckons its Factorial Electrolyte System Technology - or FEST - is the first solid-state battery tech that has been scaled to 40Ah battery cells that can operate at room temperature. As well as claimed safety improvements, Factorial's system is said to be 'drop-in compatible' to be easily integrated into a carmaker's existing battery manufacturing infrastructure. 
Stellantis battery deal
Stellantis has also signed a detail with an Australia-based lithium hydroxide producer, Vulcan Energy Resources. The group, that incorporates the Citroen, Peugeot, Vauxhall, Alfa Romeo, Fiat and Maserati brands, claims the deal secures it a five-year supply of battery-grade lithium hydroxide, a key cell ingredient. This will play a central role in its plans to electrify 98 per cent of its vehicle fleet by 2025.
Vulcan Energy Resources uses geothermal energy to produce the lithium hydroxide from brine, instead of more common methods that intensively use fossil fuels. The firm will supply Stellantis with between 81,000 and 99,000 metric tones of the material over the agreement's five-year term. 
Click here for our list of the electric cars with the longest range...