New Gordon Murray Automotive T.33 supercar to sit below T.50
Gordon Murray Automotive's new T.33 will be unveiled on 27 January, and is likely to use the Cosworth-developed V12 engine from the T.50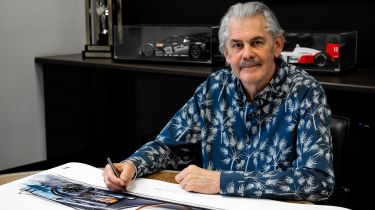 Gordon Murray Automotive's next supercar will be called the T.33 and will be unveiled on 27 January, the company has confirmed - and the vehicle is to be built at the company's new global headquarters in Windlesham, Surrey.
Also referred to as Project Two, the new T.33 model is expected to retain the Cosworth-developed V12 engine from the radical T.50, but lose that car's three-seater layout and its complex ground-effect fan. It's expected to be produced in small numbers, in line with GMA's ethos of only ever producing up to 100 examples of any of its models.
In a short statement, Gordon Murray Automotive described the new model as 'the world's finest supercar GT' and said the new HQ and Technology Campus, called Highams Park, would be the base for its manufacturing, as well as "most of the development work". The former BOC facility was taken over by GMA in 2020, and £50m is being spent on developing its offices, as well as on a heritage centre, customer sales and servicing facilities, and a test track.
Murray himself has told Auto Express previously that the T.33 is likely to be the last GMA car to feature a normally aspirated powerplant, without some form of electrification.
"We've looked very long and hard at future regulations, and we can get in one more normally aspirated model. The money it cost us to build the V12 and transmission from scratch, we've got to try to get a little bit back," the former McLaren designer said. "The powertrain is what feeds back into Project Two. It's a brand new platform for that car; we're starting again on that. The T.50 was a unique monocoque, because of the fan and the central driving position, so it would be difficult to take that and adapt it to a two-seater."
Murray has declined to give a price for the T.33, beyond confirming that it will be more affordable than the £2.36m T.50. "If you're only doing a hundred cars, they're not going to be £150,000," he told us. "But I promise T.50 will be our halo car; it's a very expensive car, and Project Two won't be at that level."
Now read our list of the Best new cars coming in 2022...