McLaren F1 - best hypercars
The car that created the hypercar class, the McLaren F1 remains a hard act to beat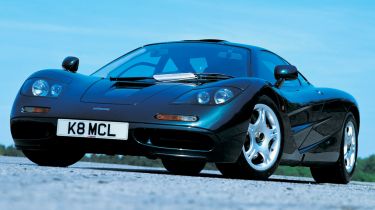 When Formula 1 racing car designer Gordon Murray wanted to build the ultimate road car, his boss Ron Dennis at McLaren gave free rein to the project. The result was the groundbreaking McLaren F1 that arrived in 1992, and was the first production car to feature a carbon fibre monocoque chassis.
The McLaren F1 was also notable for its three-seater layout with central driving position, and for using gold as engine bay insulation - although the few hundred pounds worth of precious metal paled into significance against the car's half-a-million pound price tag.
That doesn't sound a lot when you consider top modern hypercars seldom cost less than £1m, but at the time it was more than double the price of the Bugatti EB110 GT and a fair chunk more than Jaguar's XJ220. On the road, the McLaren F1 blew both into the weeds. It was an engineering feat that completely moved the goalposts for hypercars and set a new benchmark for performance.
Its 6.1-litre V12 engine makes 618bhp, and took the McLaren F1 to an officially timed 243mph in March 1998. It was a new world record that wasn't beaten until the Bugatti Veyron cracked 253mph in 2005.
Best hypercars 2021