Pagani Huayra BC - Best hypercars
Pagani's show-stopper mixes incredible looks with savage performance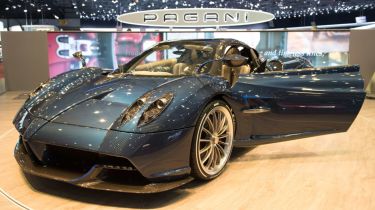 The Pagani Huayra is named after the Inca god of wind, and like the Pagani Zonda, it blows a big raspberry in the direction of longer-established Italian exotic builders Ferrari and Lamborghini.
With a monocoque made of carbon fibre and titanium, the Huayra weighs in at less than 1,400kgs. Not surprisingly, therefore, with a 720bhp and 1,000Nm twin-turbo Mercedes-AMG engine stuffed into its rear end, even the 'standard' Huayra goes like stink. Maximum speed is quoted at 235mph, with a 0-62mph time of 3.2 seconds.
The Huayra BC takes things a step further, with a power upgrade reported to be in the vicinity of 800bhp, and a stunning aero package with a vast rear wing and racing car style front splitter. In fact, according to Pagani no panels are identical to the regular Huayra. If you didn't catch the Huayra BC at the Geneva Motor Show, your chances of seeing one are vanishingly slim as production is limited to just 20 cars.
Best hypercars