Aston Martin Valkyrie - best hypercars
Aston Martin and Red Bull Racing have teamed up to produce a 6.5-litre V12 F1 inspired car for the road. No, you are not dreaming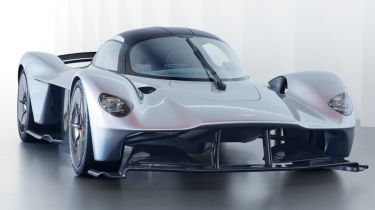 Aston Martin and Red Bull Racing have teamed up to produce a hypercar which has only one direct rival – the Mercedes-AMG Project ONE. Scheduled for deliveries in 2019, the Valkyrie will use a 6.5-litre V12 built by Cosworth with an F1 style hybrid system. While we say the Valkyrie will be a road car, only 150 examples will be made and at an estimated £2 million each, don't expect to see any in the local Asda car park.
Aston is toting a 1:1 power-to-weight ratio, and as the Valkyrie is expected to weigh in at 900kg, a bhp figure of 900 would make mathematical sense. These kinds of numbers put it in line with the Mercedes-AMG Project One mentioned above, which is claimed to have an output of 986bhp.
On top of the road going version, there is expected to be a track only model which will allegedly be capable of exceeding 200mph and reach 62mph from a standstill in just over two seconds.
Best hypercars 2021
1. McLaren F1
9. Aston Martin Valkyrie
10. Bugatti Veyron