Bugatti Chiron - Best hypercars
How do you follow the incredible Bugatti Veyron? With the Bugatti Chiron, of course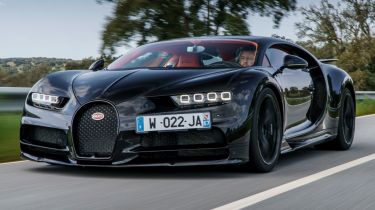 According to Bugatti, the Chiron is 'the world's most powerful, fastest, most luxurious and most exclusive production super sports car'… but we're sure they won't mind if we call it a hypercar!
The Chiron isn't exactly a 'clean sheet' replacement for Veyron as it carries over some basic vehicle architecture and a W16 engine. The wheelbase is the same, but the styling is new and the Chiron is slightly longer and wider than its world record setting predecessor. The engine has been completely reworked, however, and now produces a staggering 1,500bhp and 1,600Nm of torque, which Bugatti says is a 25 per cent increase in performance.
Four turbochargers are configured to ensure peak torque is delivered from 2,000rpm all the way to 6,000rpm – and the car reportedly has a top speed of around 288mph, although it's limited to 261mph on customer cars. But with a price tag of almost £2 million, and that's without going nuts on the options list, would you really accept anything less than blistering performance? 
Best hypercars