Porsche 918 Spyder - best hypercars
A technological feast with awesome performance, the 918 Spyder was even cheap by hypercar standards at 'only' £650k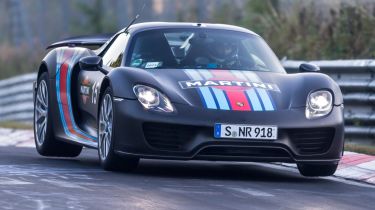 The Porsche 918 Spyder is a rocket ship designed to push the boundaries of hybrid performance as far as possible. Unfortunately for most of us, that might as well mean into outer space – although the Porsche 918's £650k price tag was at least a little more accessible than some of its hypercar rivals!
Power comes from a V8 petrol engine and front and rear electric motors, which combine to produce 875bhp and 1,280Nm. Handling is superlative, as you'd expect from a Porsche, but with its plug-in hybrid tech you can also cruise around in silence on batteries only for up to 18 miles.
When you're bored with that, a prod on the accelerator wakes the dormant beast, and the 918 will hit 62mph in 2.5 seconds and race on to a maximum speed of 214mph. The 918 Spyder was one of the first production cars to monster the famous Nurburgring old circuit in under 7 minutes too, but on the road it's docile and easy to drive making it the perfect poser mobile.
Best hypercars 2021
1. McLaren F1
7. Porsche 918 Spyder
10. Bugatti Veyron