Mercedes-AMG Project ONE - best hypercars
Mercedes are one of very few companies who could, if they wanted make an F1 car for the road. Luckily, they very much do want to...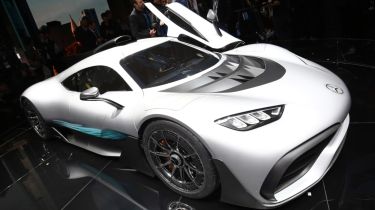 Set for production in 2019, the Mercedes-AMG Project One is a concept first revealed at the Frankfurt Motor Show. The German hypercar, pegged to cost around £2.4 million, uses a powertrain that takes engineering from contemporary F1 cars. Hidden under the bodywork is a 1.6-litre turbocharged hybrid V6, that is built here in the UK no less.
Power output is to be 986bhp, which is roughly the same as having 29 classic minis powering you down the road. However, the redline is reported to be set at 11,000rpm (4,000 down on the F1 car limit), giving it one of the highest redlines on the open road.
As for the rest of the performance, the top speed is to be in the region of 217mph, and even though there has been no confirmation of 0-60mph time, Mercedes is claiming that the Project ONE will get from 0-124mph in less than six seconds.
The car uses four electric motors to help deliver its performance, with one forming part of the electronic turbocharger assembly (designed to reduce lag), while another is hooked up directly to the crankcase to supplement the output of the engine output.
Best hypercars 2021
1. McLaren F1
3. Mercedes-AMG Project ONE
10. Bugatti Veyron