Scrap car prices at record highs, says leading recycler
2021 closed with scrap cars making an average of £260 - but we're holding onto old cars longer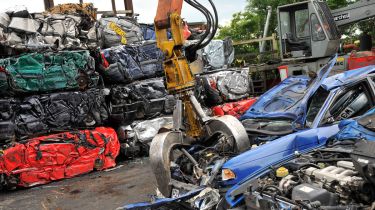 If you're planning to scrap an old car, now could be the time to do it. Car recycling network CarTakeBack says prices have reached record highs.
According to the company's own figures, the value of scrap cars rose throughout 2021 and was at the highest recorded level ever seen at the close of the year – around £260. The average price for the full year was £240, a rise of 51 per cent on 2020.
In spite of the price rises, we seem to be holding on to cars a little longer, because the average age of scrapped vehicles rose from 15 years in 2020 to 16 years in 2021.
CarTakeBack scrapped more Ford vehicles in 2021 than any other makes, with Vauxhall and Peugeot in second and third positions respectively. The top-five models scrapped in 2021 were the Ford Focus, Vauxhall Corsa, Ford Fiesta, Vauxhall Astra and Renault Clio. Of the vehicles scrapped in 2021, 67% were petrol and 33% were diesel. This is a year-on-year increase of 4% in diesels being scrapped.
Rebecca Currier, CarTakeBack Marketing Manager said: "Although 2021 was another unsettled year  due to Covid, we were pleased to see scrap prices continue to steadily rise.  Many factors can contribute to the price of scrap; the rocketing price of catalytic converters, as well as the increased value of used cars as a whole, certainly had an impact throughout the year. 
"Changes to driving habits due to the introduction of Clean-Air Zones throughout some cities and with more people now working from home, many car owners may take advantage of these record scrap car prices and get rid of their old vehicles."
Check out how Toyota plans to stop catalytic converter theft here...