Fuel protests hold up traffic in opposition to high prices
Rolling roadblocks cause congestion on motorways around the country as drivers protest the high cost of fuel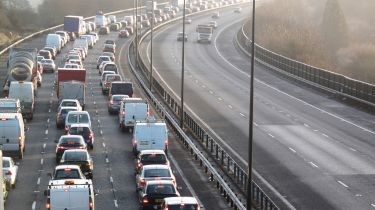 Drivers are protesting the high price of fuel by setting up rolling roadblocks on motorways around the country.
The 'Fuel Price Stand Against Tax' was organised via social media, with the M4, M5, M32 among the roads affected. Protestors have been driving at around 30mph, blocking two out of three lanes.
The Government sympathised with drivers' concern over high fuel costs, but condemned the protests, arguing that "people's day-to-day lives should not be disrupted" and warning that the rolling roadblocks "will only add to fuel use".
Petrol is currently an average of 191.53p per litre at the pumps, while diesel is 199.03p. A month ago, petrol was 177.03p and diesel 185.13p. This time last year, petrol averaged 131.77p per litre and diesel 134.49p per litre.
Luke Bosdet, the AA's fuel price spokesman, said: "It is an outrage, plain and simple, that the fuel trade could be slashing petrol prices as the nation heads towards the holiday season, but isn't.
"The retailers came up with an excuse that demand had fallen to 80 per cent for some. Yet, last week, official statistics showed that petrol consumption is still at 94 per cent of normal. That is incredible given the enormous pump-price pressure on drivers and underlines once again that road fuel is an essential expenditure for private car users and their families across the UK."
Now read our list of the most economical cars on sale...