Osprey subscribes to chargepoint accessibility assessment
Charging firm becomes first to co-operate with independent assessment of UK EV charging accessibility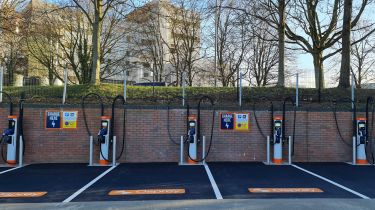 Osprey has become the UK's first public EV charging company to subscribe to ChargeSafe, which is conducting a nationwide assessment of the accessibility of EV charging infrastructure in Britain. 
The organisation plans to inspect and rate all the UK's charging locations in 2022, scoring them out of five on 63 criteria for safety and accessibility.
Announcing its subscription to the service, Osprey will be able to access the data behind its scores to identify which areas of its charging network need improvement. ChargeSafe's criteria are based on the BSI's draft PAS 1899 standards for EV charging accessibility, with Osprey having already built charge points in line with this.
Auto Express - which has been campaigning to improve the accessibility of public chargers for disabled EV drivers - previously tested these chargers with a group of volunteers who use walking sticks.
The test revealed that issues relating to the weight and manoeuvrability of the cables had not been properly addressed in the design, with our volunteers struggling to lift and orientate the cables.
Ian Johnston, CEO of Osprey, said his firm's subscription to ChargeSafe would mean "well lit sites, the best chargers and the ability for wheelchairs and anyone with mobility requirements to have the space and access to charge, pay and enjoy our facilities".
Kate Tyrrell, co-founder of ChargeSafe, added: "We're delighted to be working with a leading nationwide charging network such as Osprey and we hope other charging networks follow suit soon to give drivers better charge options when considering their safety and accessibility needs."
Click here for more information on the UK's electric car charging network...