Polish firm Izera secure Geely tech backing
Izera will use Geely's architecture for its electric cars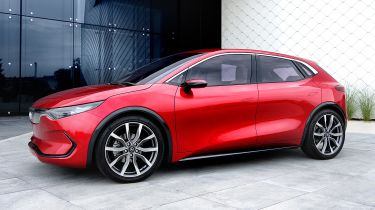 Geely has been making waves in the European car market recently, owning or having a stake in Volvo Cars, Polestar, Lynk & Co, Lotus, Smart and Aston Martin. Its latest business move comes in Poland, where the Chinese giant has agreed to supply technology to new car manufacturer Izera. 
Izera was launched in 2020 under the ElectroMobility Poland (EMP) brand, which is, in turn, backed by the Polish government. Two Izera prototypes have already been revealed in the form of the Z100 SUV and T100 compact hatchback. The two cars were scheduled to reach production in 2023, although this may be pushed back or even cancelled with the introduction of Geely's Sustainable Experience Architecture (SEA). 
We've already seen SEA underpin the new Smart #1 and it'll also be used for upcoming Volvos and Polestars too. Izera says it will use SEA for multiple electric cars in future, and has confirmed plans for a compact SUV, a Skoda Octavia-sized estate and a hatchback. The platform is hugely modular, with Geely claiming it can be expanded from 1,800mm to 3,300mm - which means it could underpin cars of a similar size to the Citroen Ami up to a BMW 7 Series. 
Izera will have access to SEA components like electronics and electric motors, but the Polish company will source local battery supply instead of buying from Geely. The first EMP cars based on the SEA platform are expected to be produced at the Jaworzno plant in southern Poland, which is scheduled to open in 2024. 
Piotr Zaremba, ElectroMobility Poland CEO said of the agreement: "The SEA architecture perfectly fits the Izera product concept. Geely is providing EMP with the highest class of industry know-how, as well as additional business opportunities. In the long run, this technology partnership will allow EMP to thrive, allowing us to heavily engage local suppliers and execute the project within the envisaged business framework."
Click here for our list of the best electric SUVs on sale in the UK...