Nio launches electric car battery-swap network
Installed on China's G2 Expressway, Nio's battery-swapping stations can exchange a flat battery for a fully-charged one in 3 minutes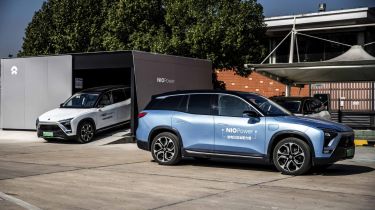 Chinese electric car brand Nio has announced on Twitter that it has completed the roll-out of its battery-swapping infrastructure along the G2 Expressway between Beijing and Shanghai. Covering 732 miles, the series of eight battery-swap stations can exchange a flat electric car battery for a fully-charged one in three minutes.
This infrastructure should allow drivers to cover longer distances in their Nio EVs without worrying about range. Nio's map also shows a second arm to the system, a series of battery-swappers running from Beijing to Shenzhen, suggesting an extension to the network is in the pipeline.
• Best electric cars currently on sale
Currently, the battery-swappers are only compatible with the Nio ES8 electric car. Owners simply drive their vehicle into the battery-swapper and a series of automated rams and motors raise the car, unbolt and remove the flat battery, then replace it with a fully-charged one.
The battery-swappers store and recharge the battery packs, ready for their next use, while periodically checking their condition to ensure only the "healthiest" cells are supplied to drivers. The automated battery-swappers have a footprint of only three regular car parking spaces, which Nio says allows for battery-swapping locations to easily upscale.
In addition to this battery-swapping service, Nio provides a mobile recharging service called Nio "Power Mobile." Designed for when drivers misjudge their car's range, the scheme consists of fleet of van-mounted mobile power-banks, which can provide 100km (62 miles) of range in only 10 minutes; or enough to get the driver to the next battery-swapping station.
What are your thoughts on Nio's electric car infrastructure? Would something like this work in the UK? Let us know in the comments section below…