Mitsubishi deal makes Nissan U-turn on future hybrid cars
After the Renault-Nissan Alliance recently acquired a 34% stake in Mitsubishi, execs at Nissan confirm they're working on a new PHEV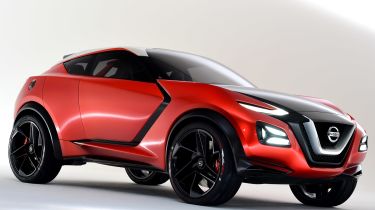 Nissan has made a U-turn on its plans to forge ahead with only pure-electric vehicles, as senior execs confirmed to Auto Express that the manufacturer is working on a plug-in hybrid solution for Europe.
The Renault-Nissan Alliance recently acquired a 34 per cent controlling stake in Mitsubishi Motors, and Takashi Shirakawa, Nissan's European R&D boss, has hinted that its eventual plug-in hybrid could share tech with Mitsubishi's best-selling Outlander PHEV.
"Our current priority is to shift into EVs for the future, but we still need a bridge," Shirakawa told us. "We are now working on a plug-in hybrid solution for Europe.
• Best low emission green cars
"We welcomed Mitsubishi Motors into the Nissan family, and they already have the Outlander PHEV. The next-generation product range may be shared with that, but this is just the beginning of the discussion as nothing has been decided yet."
One of Nissan's few experiments with hybrid tech was with the Gripz – a concept with a series hybrid powertrain revealed at the 2015 Frankfurt Motor Show. While Mitsubishi's PHEV knowhow could easily extend into a Qashqai PHEV for the future – something Shirakawa failed to rule out – he also confirmed Nissan sees electrification extending into smaller segments.
"Most customers are keen to have a smaller EV," he said. "We recognise this, and we're already thinking about how to solve these customer issues with next-generation EV technology."
What do you think about the plans? Leave us a comment below...