Nissan reveals new e-NV200 VIP concept
Nissan has unveiled a luxury version of its electric e-NV200 Combi van-based MPV, ahead of the Hannover Motor Show
Nissan has unveiled a luxury people carrier based on the NV200 commercial vehicle at the Hannover commercial vehicle show. It borrows the all-electric powertrain from the Nissan Leaf, and fuses it with five seats and a luxurious interior.
Dubbed the Nissan e-NV200 VIP Concept, the luxury MPV made its debut alongside the new NV400 range.
The striking two-tone paintjob attempts to move the VIP Concept away from its utilitarian roots, with the emphasis on luxury and refinement. Big words for a van-based people mover, even if it is electric.
Changes over the standard e-NV200 Combi MPV include a white and blue leather interior with two 'Club Class' separate rear chairs instead of the normal bench. The seats feature arm and legrests, and have been moved further back to create a Rolls-Royce-like 670mm of legroom.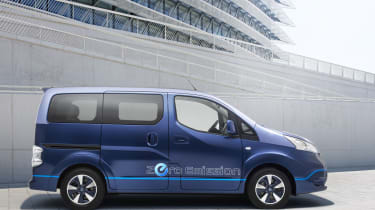 Also in the back is a huge 21.5-inch screen, which can play movies and connect to your mobile device. There's a centre console that houses controls for the screen, LED roof lighting and even a drinks fridge – all of which makes the newcomer ideal as an executive taxi.
In addition, Nissan is debuting its Smart Rear-View mirror technology, which is an LCD screen housed in the mirror itself, displaying an image from a high-res rear view camera mounted on the back.
Mechanically, the VIP Concept is identical to the normal e-NV200, which means a range of 106 miles on a full charge, and a clever rapid-charge system which means getting to 80 per cent battery level takes only 30 minutes.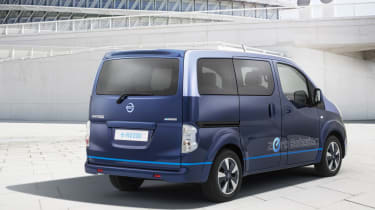 It is also capable of 0-60mph in a reasonable 14 seconds, although the top speed is only 76mph. Expect a slight increase on the Combi model's £27,805 price tag, although that's before the Government's £5,000 EV grant has been taken into account.