'This is our chance to decide the fate of petrol, diesel and hybrid cars'
The public is being called on by the government to offer their views on the proposed ban of new petrol/diesel sales and it is our duty as motorists to oblige, says Mike Rutherford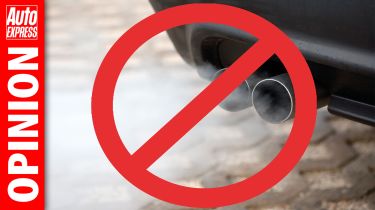 I never thought I'd witness the day a British government announced tentative plans to ban/prevent/prohibit consumers from buying new petrol, diesel or hybrid cars and light commercial vehicles.
But it's happened. Our leaders have expressed a willingness (not a commitment or a guarantee) to soon make such factory-fresh vehicles illegal.
With that in mind, 33 Horseferry Road is a place you need to know about and connect with. Why? Because the friendly folks at No. 33 (a 10-minute walk from Parliament) are employed by OLEV – the Office for Low Emission Vehicles – part of the Government's Department for Transport and Department for Business, Energy and Industrial Strategy.
With OLEV saying that it's "consulting on ending the sale of new petrol, diesel and hybrid cars and vans by 2035 or earlier if faster transition appears feasible", I don't exaggerate when I say this is the biggest, most important car and van-related consultation ever.
Nothing has been finalised yet. Anything and everything remains up for discussion. Only after weighing all the evidence from the public and industry will Government decide if – or more likely, when – new internal combustion-engined cars will be declared as illegal as Class A drugs.
Don't believe those headlines you've read about the ban being triggered in 2035. It might, it might not. This isn't yet a done deal, and you still have time to influence it. The date will not be decided on by the ruling politicians and the relevant departments until the evidence from the public has been properly and thoroughly seen, heard, and weighed up. This is where you, the car or van driver or passenger, come in. The DVLA says that at the end of 2019, around 41 million people in the UK had full driving licences. About 99.9 per cent of those use vehicles with combustion engines.
If the majority of these people contact OLEV with their views and advice on the potentially imminent outlawing of factory-fresh petrol, diesel and hybrid cars and vans, our tens of millions of opinions, suggestions, polite arguments and protests– whether for or against ICE vehicles – have to, and will be, listened to.
Let's have a sensible, adult debate. Let's, via OLEV, make our feelings politely known to the decision-makers in Parliament. And let's not waste this rare and golden opportunity to have our say on the future (if there is one) for petrol, diesel, and hybrid vehicles.
The Government and its agents promise to "welcome the public's views" on this topic. So please accept that invitation to have your voice heard, by E-mailing communications@olev.gov.uk, or sending a letter and/or petition to Consultation Response, Office for Low Emission Vehicles, Zones 3/29-33, 33 Horseferry Road, London DW1P 4DR.
OLEV warns the process closes at 11.45pm on 29 May 2020, but I have a different warning: that you have to step up and speak up on this massively important matter. Or, you can just sit back and say nothing – before watching petrols, diesels and hybrids first culled, then cruelly killed off to make way for their pure-electric and hydrogen successors.
Do you agree with Mike? Let us know your thoughts in the comments below...