"Maybe we haven't seen the last of the doomed Dyson car"
Could we yet see the Dyson car on the road, wearing another badge?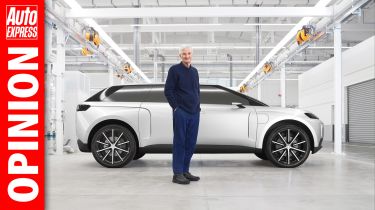 Blowing £500 million on his aborted car project doesn't seem to have done James Dyson too much harm. He still sat proudly in an interior buck of the car and at the top of last weekend's Sunday Times Rich List boasting an estimated fortune of £16.2 billion.
It was certainly a bold move to can a project that was some way down the line - disappointing for all concerned, including those working on the project. But is the project totally dead, or could we see a knight in shiny (possibly Chinese-made) armour come riding to the rescue?
Dyson's project seemed to hinge around one thing in particular - his company's expertise in battery technology. I use it frequently and it seems to work okay (although the less said about the leaky hand driers the better). But does the world really need an electric luxury car - with a price rumoured to be north of £150,000 - that can go for around 600 miles on a single charge? Nothing without four legs and a hump on its back can go that long without needing a pee.
Could the fact that the car would have been over-engineered, and therefore, over priced have been its biggest stumbling block? Is that what stopped it being commercially viable?
Nothing, I suspect, would change Dyson's mind and persuade him to get the project back on track. But what if a company came in and offered to buy, at the very least, the design. From what we can see in the Sunday Times pictures, it's a smart, minimalist-looking thing – very Range Rover-esque.
If you already had a scalable electric vehicle platform, with batteries capable of a 300-mile-plus range, it would be interesting if you could add a Dyson 'top hat' to it, wouldn't it? 
Even if you didn't have the platform yourself, there are enough off-the-shelf alternatives that would be worth looking at. It seems as though Automobili Pininfarina is about to discard the one being developed by Bosch and Benteler in favour of another platform partner – so there's one, for starters.
Every time I go to a Chinese motor show (and I hope I get to do it again before too long) there are new EV start-ups showing their exotica. And it doesn't have to be a start-up to be interested, there could be enough interest from some of the new Far-Eastern giants who are cash rich and looking for a European angle to boost their global aspirations.
I, for one, think it would be a great shame if the Dyson car doesn't see the light of day in some form or other. And surely if Sir James wants to stay on top of the Rich List, he'd be willing to listen to offers for what he started, but felt unable to finish.
Would you still like to see Dyson's electric car hit showrooms? Let us know your thoughts below...