"I'm delighted by the emergence of a new industry that organises drive-in events"
From live music to picnics, Mike Rutherford is pleased to see events being organised where car occupants are entertained without stepping out of their vehicles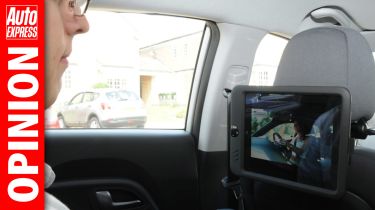 Lacking the money, job security and confidence to buy a new car at this still-tricky time? You're not alone; the vast majority of motorists are having to make do with their old vehicles.
Ongoing lockdown restrictions mean that holidaymakers, restaurant-goers and drinkers can't attend their favourite vacation haunts, eateries and pubs. But at least drivers are still able to take to the roads. In this sense, we're the fortunate ones.
What's more, aftermarket companies, products, workshops and other outlets are now ready and able to assist in improving and upgrading the interiors, exteriors and oily bits of the cars and vans we've got.
And as we enter summer 2020 proper, I'm intrigued and delighted by the emergence of an all-new industry – one that organises drive-in events where car occupants are entertained without stepping out of their vehicles. I mean everything from live music and other festivals with admission prices, to more modest events where access comes at zero cost for attendees, sitting or slumping comfortably in the reclining seats of their family vehicles. What's not to like? Especially if the experiences can be accompanied by an in-car picnic, plus a glass or two of something for the non-drivers.
The thinking is that although the pandemic continues to curtail us, the warmest, kindest weather has arrived – and there are plenty of safe, clean, legal, socially distanced, non-driving things that car owners and their closest family members can do inside their securely parked vehicles during these sweet summer days and evenings.
We know drive-in movies are tried, tested and enjoyed in the US and, increasingly, on balmy British soil. Equally, we understand why Glastonbury can't proceed as a drive-in event, with tens of thousands of festival-goers confined to their cars on soggy Somerset farmland. But smaller, live, on-stage concert, theatre, dance and comedy productions in fields, car parks and disused airfields could be appropriate – and fun. At least until the novelty wears off and traditionally cramped music, theatre and similar venues reopen.
Sporting events could also go down the 'spectators in cars only' route. The Silverstone circuit and countless football grounds are supposed to be no-go zones for race and footie fans this summer. But might such folk like to park their cars outside the venues on F1 or big-game days to soak up a bit of the atmosphere? After all, at a GP the noise – even from a great distance – can be more exciting than the on-track (in)action.
For those forced to remain in vehicles at music events, Honda has a tall, pig-ugly car (a concept I saw in Tokyo 21 years ago) called the Fuya-Jo, complete with dance floor. Honest.
Closer to the real world, best for sports and similar events are modified vans, seven-seat MPVs or, better still, proper motorhomes. An on-board cool box or fridge is advisable; a kettle plugging into a 12V socket more of a gimmick; the phenomenon of the portable, high-tech, odourless 'car-loo' a mere a sign of the troubled times. Nonetheless, the way things are going, it might just be the must-have motoring accessory/necessity of 2020.
Do you agree with Mike? Let us know your thoughts in the comments section...