'Ineos's clean-sheet approach looks eerily familiar'
The styling of the new Ineos Grenadier is familiar, but editor-in-chief Steve Fowler has been impressed by Ineos Automotive's original thinking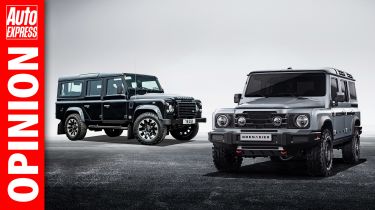 Starting a car company from scratch is a rare opportunity – something few in the automotive industry ever get the chance to do in their careers.
So it was no surprise that the guys behind Ineos Automotive were as excited to show me the new Grenadier as I was to see. For the record, I think it's a great piece of industrial design. Pretty? No. Familiar? Very.
I've done extremely well to make it to just the third paragraph here without mentioning the original Land Rover Defender, because that's the car that has clearly inspired the Grenadier more than any other. And it's the car that its design will be most compared to.
Is that a bad thing? Well, Land Rover tried and failed to trademark the Defender shape, and it's clear that there's still a huge passion for the old Defender among enthusiasts. Whether those enthusiasts turn into Grenadier customers remains to be seen, though.
What struck me having spent time with the team behind the Grenadier, however, is the clarity of purpose. They referenced the Willys Jeep and how that car was designed by numbers; the US military decided what they wanted the car to do, and engineers did just that.
The same approach has been taken with the Grenadier. They decided what they wanted the car to be able to achieve, and built a car around that. "There's nothing fluffy or extraneous," designer Toby Ecuyer told me.
And if you're going to design a car to do a specific thing, then maybe the original way is still the best way. As Ecuyer explained: "If you're designing a hammer, it has to perform a certain function. And, pretty much, hammers all end up looking very alike." Fair enough.
I'm impressed by much of the original thinking from Ineos so far – even if the styling is far from original. More than anything, I'm impressed by how the firm has listened to potential owners – giving it a much better chance of success.
Do you think the new Ineos Grenadier will be a success? Let us know your thoughts in the comments section...