"I'm all for going green, but not if it pushes me into the red"
Chief sub-editor Andy Pringle thinks electric cars are still too expensive compared to combustion-engined equivalents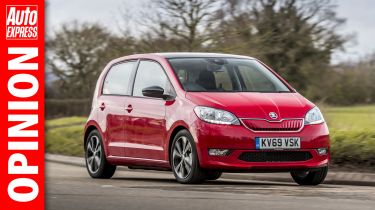 I know every car maker under the sun is falling over itself to develop electric cars at the moment, but I can't see EVs gaining mass acceptance until the Government dips its hands into its pockets and makes them more affordable.
Why? Well, the answer is in black and white on our best car leasing deals page. We happily tell you that the Skoda Citigo e iV – a pure-electric car – is one of the best cars you could buy for less than £10 a day. And it is.
Trouble is, just below is another rightly recommended small car, the petrol-engined Vauxhall Corsa 1.2 SE SE Premium – and it will cost you just £4.61 a day. If you're like me and work out your finances on a monthly basis, the maths says that the Corsa is almost £100 a month less. Plus, it's a bigger and well specified car, with a very decent average economy of 53.6mpg.
To my mind, what that shows is that buying a small electric car makes no sense for the very people for whom it should make the most sense: people living in urban or suburban areas, with low annual mileages, who mostly use their car for pottering about.
Unless you have deep pockets, £100 each and every month is a significant sum of money. And, yes, I know that electric cars are cheaper to run and all that, but you've got to go a long way to make up that £100 deficit – especially when the alternative is pretty economical.
To cut a long story short, I'm all for going green, but not if it pushes me into the red. And that was why, when I looked at getting a new car, an electric car was out of the question on my family's budget. In the end, we went for a lovely five-door hatch – with a petrol engine. Not even a plug-in or mild hybrid.
For now, EVs aren't going to get much cheaper, so the only way to bridge that £100 gap every month is to give buyers some major incentive to make them financially attractive. I love driving electric cars, I appreciate that they put out less pollution, and I know they're the future. But, most people in this country buy with their wallets, not their consciences.
So, come on, Boris, I know it's not easy when you're faced with a pandemic, but if you want EVs to be the present, you need to make the sums add up for people who might be considering buying one.
Click here for our list of the best car leasing deals available right now...