"Value for money is more important than ever"
Editor-in-chief Steve Fowler thinks brands like Dacia and MG are reaping the rewards for pricing their cars attractively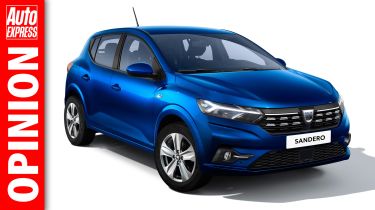 In a fast-changing world, one thing has become more important than ever: getting good value for money. It's something we've always been mindful of at Auto Express and it applies however much you might be thinking of spending on a car.
It's also why we were delighted to hear that the new Dacia Sandero – famously Britain's cheapest new car – will still have an 'unbeatable price' when it goes on sale later this year. An unbeatable price that is set to include more kit and quality – and a bit more style.
Brands such as Dacia have really made other car makers sit up and take notice. But rather than react with low-priced, high-quality cars of their own, they've tended to push themselves further upmarket, away from Dacia and the still-unfulfilled potential of new value brands from the Far East.
Some still offer good value, though, like Kia with the new Sorento tested this week. It's got a hefty price tag, for sure, but the quality on offer for the price is impressive.
Then there's MG – in my view one of the most exciting car brands of the moment and one that's enjoying huge growth in sales. Why? Because it's hit on a formula the British public seem to like – good-quality cars at an affordable price. Not unlike Dacia.
The new MG 5 we drive this week offers estate-car space with an advanced electric powertrain – it'll do around 200 miles on a charge – all from £24,495. It may not be the best-looking or best-driving car you can buy, but it comes loaded with all the latest tech you'll want (and a bit more), loads of space and a seven-year warranty for what is these days not a huge sticker price. It's no wonder more and more people are flocking to MG dealers and leaving with their cars as happy customers.
If you take a look at the premium brands selling cars in huge numbers, there tends to be a good reason for that, too. Yes, the cars are good, but some of the deals are even better. Good value will always win favour with car buyers.