'Cars and their drivers are being disgracefully discriminated against'
With petrol and diesel cars potentially being killed off by 2030, Mike Rutherford thinks the government is unfairly attacking the ICE motorist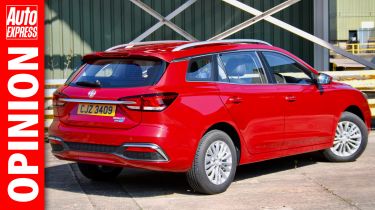 Me and my big mouth! There I was – a mere seven days ago, via this column, passionately pleading for the truth, the whole truth and nothing but the truth from politicians, industry execs and others who have our automotive future (assuming  we've got one) in their scarily powerful hands. 
What's transpired since? Yet more uncertainty and confusion poured on already murky waters. Much crucially important information is being held back from the 55 million car users of Britain; that's 41 million drivers, plus around 14 million passengers. And what we are being told is often clear as mud.
Let's at least demand and receive a proper answer to the most logical and legitimate question of the decade: exactly when will the death sentence be served on petrol, diesel and hybrid vehicles in new-car showrooms? The original 'plan' (oh, please) by the Conservative Government was 2040, but it brought this forward to 2035, and now there are reports – denied in some, but not all Tory quarters – that 2030 has emerged as the preferred option for our ruling regime. Meanwhile, the Labour Party is clear it wants internal combustion engines (plus countless engine-building UK jobs) killed by 2030, whereas the Lib Dems have vowed that 2025 – which is little more than a 48-month PCP deal away – is the year for the execution of some, possibly all, cars powered by ICE.  
With perfect timing, Tesla's god-like chief Elon Musk last week offered us hope by apparently promising consumers the holy grail of far less expensive EVs, fitted with substantially cheaper original (and replacement) battery packs. Or did he?
"In three years we can do a $25,000 (£18,900) car that will be basically on par with, maybe slightly better than, a comparable gasoline car", he enticingly claimed. But 'I can' is not the same as 'I guarantee', is it, Elon? "We do not have an affordable car", he accurately stated. "That's something we will have in the future. But we've got to get the cost of batteries down." Down by how much? What does he consider affordable? And when will this car actually hit showrooms? The serial billionaire leaves us guessing.
More uncertainty comes courtesy of the latest Covid-19 travel advice from the Government: "You need to consider accessibility at every stage of the passenger journey." Eh? "Everyone should be supported to access transport and comply with social distancing." But how the hell are folk supposed to distance on crowded public transport and pavements? "All equality and discrimination law continues to apply." Right. But not if cars and their drivers are being disgracefully discriminated against – which they are.
Conversely, this confusion comes when some of the most exciting cars are being made and designed in the UK, or at least built with an English brand's badge on their bonnet. Everything from the exclusively expensive Aston Martin DBX, to the humble but hugely appealing Derbyshire-built Toyota Corolla. Oh, and then there's Europe's first electric estate car, the £25,000 MG 5. This, unlike affordable Teslas, actually exists.