"Motor shows such as Detroit, Geneva, Frankfurt and Paris have had their day"
Mike Rutherford thinks local motor shows can fill the void left by big international exhibitions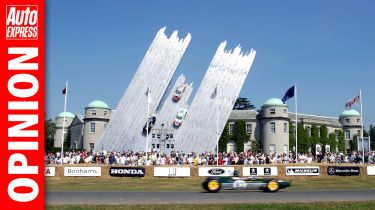 With a mixture of realism and regret, but no remorse, it's my job to tell you that lockdown has claimed yet another victim. It's the beast known as the international motor show. Join me in acknowledging that a lethal cocktail of Covid, crippling costs, changing consumer demands and travel restrictions has made it almost extinct. Traditionally, such shows were staged in legendary car capitals like Detroit, Geneva, Frankfurt and Paris. They've all had their day.
On a happier note, the future looks rosy for local exhibitions. And here are some of the non-virtual, Covid-compliant events scheduled to receive you, in the flesh, from late 2020 to summer 2021.
The humble, different, free-to-enter Pop-Up Motor Show at Festival Place Shopping Centre, Basingstoke, Hants, was shocked by attracting thousands of observers (me included) during its recent opening days. Despite an understandable lack of space and new cars, it's worth popping in (before 24 December).
Organisers at Goodwood are being super-cautious by saying "new dates for 2021 will be announced later this year" for the Festival of Speed. Think June or July, probably. It's not confirmed if the Moving Motor Show will be included, but regardless, the quintessentially English FoS is always a class act.
The London Motor Show is moving from ExCel to Battersea Park. From 14-16 July the promise is an exhibition by day, music events by night. Elsewhere, but with few notes of explanation, CarFest's organisers insist 2021's events will be "Camp" gatherings – with Camp CarFest North at Bolesworth Estate, Cheshire (23-25 July) and Camp CarFest South at Laverstoke Park Farm, Hampshire (27-29 August).
Simpler to understand and cheaper to attend is the British Motor Show, which takes place at Farnborough International Exhibition Centre, Hants, on 19-22 August. Importantly, an official partner is the respected Institute of the Motor Industry (IMI). Also important: this event is nowt to do with the dead-and-buried British International Show. 
So it's RIP for giant international car exhibitions where punters could look, but not always touch and rarely enjoy a test drive. The future for such savagely expensive static global automotive events in the western world is almost as grim as the prospects for Blockbuster stores, coal mines and typewriter-repair engineers. Conversely, long live local motor shows – whether they're big or small, occasional or annual, with or without entry fees. At best, such occasions will feature private test tracks where customers can try before they buy. At worst, demonstrations and test drives will be on public roads. 
With the groceries and drinks that we shop for and the places we eat out, the growing tendency is to think and buy local. So let's do the same with car shows. Enthusiasts of every description should be warmly welcomed, but so too should the teachers with kids to educate, and the careers officers looking to place youngsters in the exciting vehicle design and manufacturing industry, which is here to stay – unlike the bloated, defunct international motor show.
Have you attended any local motorshows? Let us know what you think in the comments below...