"Our electric car charging network needs to improve"
Steve Fowler thinks competition is key to providing a better electric car charging experience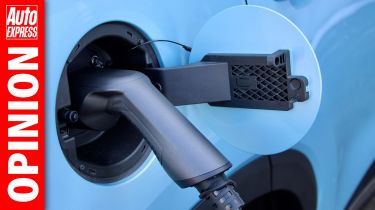 This week's announcement by the Competition and Markets Authority (CMA) of a study into the electric vehicle charging sector has the potential to help banish one of the big issues preventing people from making the now inevitable switch to electrification: charge anxiety.
With most new electric cars offering realistic ranges of at least 150-200 miles, it's far easier to adapt to a new mindset and take the plunge. But the big issue that we consistently hear of is a lack of confidence in the charging network; it's simply not accessible or reliable enough.
Chances are that if you're test driving an electric car, then you won't yet have home charging, so you'll need a good experience from the UK's charging network to help persuade you to switch. But all too often we hear of bad experiences. However, as more people without the ability to charge at home switch to EVs, the UK's public charging network will become ever more important.
So what do we want the CMA to look at? Private investment has seen this sector grow massively, but we need these companies to ensure the technology, reliability and service levels meet a required standard. All too often, as users tell us, they don't.
That's especially true on motorways, where one provider, Ecotricity, has a virtual monopoly at service areas. Unfortunately, it came bottom of our Driver Power survey into EV charging companies, but without competition at its sites, it's no surprise when users complain of an outdated and unreliable network.
In our view, allowing competition for charging points on our motorways (and elsewhere) is an essential step. But so are standards that need to be met for price, reliability and technology. Nobody wants regulation, yet there isn't even an industry body among charging companies that exists to share best practice. Let's hope the CMA comes up with robust suggestions that the Government will act upon to improve the EV charging experience for us all. 
Check out our run-down of the best electric chargepoint providers here...