'Cutting electric car incentives will harm the environment'
Editor-in-chief Steve Fowler thinks cutting the plug-in hybrid grant could push CO2 emissions up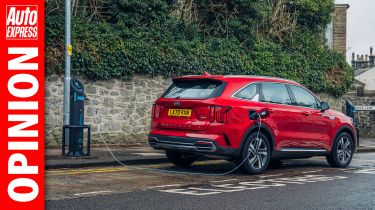 Who'd want to be a politician? Not me, for sure. While I admire their decision to enter public service, they don't do themselves any favours with decisions that at best seem ill-thought through and at worst appear just plain stupid.
Without any warning, the Government announced last week that it was scrapping the plug-in car grant for cars over £35,000 and reducing it by £500 for cars under that figure. Of course, the plug-in grant cannot go on forever and this plan will extend it. But now?
The car industry – with showrooms still shut – is in a fragile state. This is, remember, an industry that employs around 800,000 people – families rely on it.
And this is a Government that wants us to drive electric cars to help us towards a greener future. In fact, it's told us that from 2035 we can't buy anything else. Mixed messages?
This is also the year that the UK hosts the United Nations Climate Change Conference. Again, not a great message when the UK has cut its incentives for more environmentally friendly cars, putting us way behind the ones our European neighbours receive. That may mean a shortage of EVs in the UK if demand is greater in other nations, pushing CO2 figures up not down.
Of course, plenty of people think we shouldn't be subsidising customers who can afford to pay £35,000 or more for a new car. But it's not a subsidy – it's an incentive. These are people being encouraged to buy an EV, and if they're not encouraged to do so, they'll buy something else without the environmental benefits.
Electric car prices will come down, just as ranges will increase – and that's when incentives should be reduced. The Government says there are more sub-£35,000 EVs than ever – true. But they tend to be smaller cars with shorter ranges that don't suit everyone. If you need to buy a bigger EV or one with a longer range, it's just become considerably less attractive. Surely that's not the plan?
Click here to read about Kia's long-range grant-friendly e-Niro...