'The UK Government should part-fund our own British Car Company'
Mike Rutherford thinks Britain's new independence makes it perfectly poised to invest in car production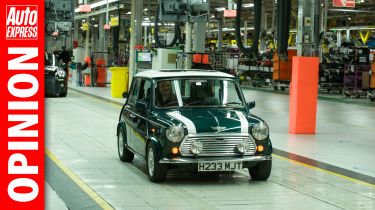 Last time I checked, MPs were preparing to blow "at least £12billion" refurbishing their already lavish London workplace, the Houses of Parliament. They also said yes to burning about £100billion on HS2, which many of them will use, all-expenses-paid, when travelling from home to London and back. Those same MPs and others will set the licence fee we pay, the main funding for the state broadcaster, whose microphones and studios are conveniently exploited by politicians peddling their policies, propaganda and idle promises.
That's billions of our pounds chucked around, just on a building refurb, a new railway, and funding the BBC. But might some, or most, of this public money be more wisely and productively invested in the BCC – the British Car Company – which I'm proposing, and the UK Government could part-fund?
Why? To create vast numbers of proper, permanent and worthwhile jobs where folk earn decent salaries and, in turn, pay taxes. The UK has lately been losing too many of its once-busy car factories. Big players such as MG Rover (RIP), Ford and Peugeot stopped making cars here a decade or three ago. Tragically, Honda will exit this summer when it closes its Swindon production line. And, after being bought/caught by a Far Eastern firm this month, it's not beyond the realms of possibility that the tiny but still tasty minnow Caterham could build its cars overseas.
It's for these and related reasons that we have to bounce back with our own British Car Company, with a simple mission: to design, engineer and build (in appropriate volumes and at the right prices) the definitive pure-electric, pure-British car the people of the real world want, need and can afford. Metaphorically, each one will have Britain all over it. Actually, an engraved, numbered 'Made in Britain' badge could be displayed on every car.
To do the job thoroughly and fairly, each of our three smallest nations will require its own BCC-bannered factory – perhaps with the first specialising in making batteries, the second electric motors, and the third focusing on hydrogen, plus other fuels and products.
England is the logical place for extra battery factories, plus the plant where finished cars would roll off the line – directly onto ships bound for mainland Europe, Asia, America and beyond. Tilbury might be the ideal deep sea port; it's within spitting distance of flat East London wastelands formerly occupied by Ford. BCC really could be as good for Britain as BMW (Bayerische Motoren Werke) is for Germany, HKG (Hyundai/Kia/Genesis) is for South Korea, and SAIC (Shanghai Automotive Industry Corp) is for China.
Finding the design, engineering, management, admin, production talent and work ethic in the UK will be a doddle. The company could even invite staff to buy shares via small payments taken from their salaries. The public could also buy shares so they feel part of BCC. But the Government has to take the lead here as the main financial player. The UK is newly independent, therefore our leaders are more free and able to subsidise long-term, UK-based motor-industry companies and jobs. So what's stopping them?
Find out how coronavirus has affected the UK car industry here...