Honda confirms sale of Swindon factory
Vehicle production facility sold to logistics company, which promises £700m investment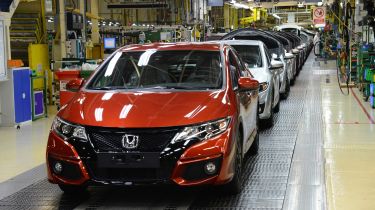 Honda has sold its factory in Swindon to logistics company Panattoni, which is promising to invest more than £700 million in the site.
Panattoni, Europe's largest developer of new-build industrial and logistics facilities, has already constructed and developed large-scale sites for businesses such as Amazon, the Co-op, Marks and Spencer, Sainsbury's and TK Maxx.
Honda plans to end vehicle production at the end of July this year, after which the decommissioning process will commence, with a view to handing over the site to Panettoni in spring 2022.
Panettoni intends to start the redevelopment process immediately thereafter.
James Watson, Development Director for Panattoni, said: "Panattoni is committing to invest over £700 million into the site to attract new employers and provide for existing businesses looking to expand in Swindon. We will be working very closely with Honda and Swindon Borough Council, along with the community and its representatives to regenerate the site."
Panattoni managing director Matthew Byrom added: "The acquisition of the 370-acre Honda facility demonstrates our capabilities to work at scale. The redevelopment of this strategic employment site will deliver thousands of new opportunities in roles which underpin the operation of the local and regional economy."
Honda confirmed news in 2019 that it would close its Swindon plant, which manufacturers the brand's Civic family hatchback.
At the end of the current car's lifecycle the Wiltshire factory will close however, as a new eleventh-generation Civic model produced elsewhere will be introduced. Only building one model, the Civic, was a significant factor in the Swindon plant's closure, outlined at the time by Honda UK's managing director, David Hodgetts.
The Japanese brand said that it had taken the decision "with a heavy heart" back in May 2019. The planned closure initiated a consultation process, with 3,500 job cuts as a result of the decision.
What do you think of the news regarding the Honda Swindon plant closure? Join the debate in the comments...