"A huge part of road congestion is down to delivery drivers going round in circles"
Mike Rutherford thinks trucking companies need to give delivery drivers better information on where they are supposed to be going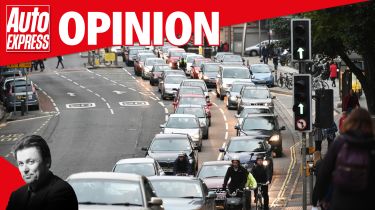 You wouldn't believe what goes on behind the scenes at a major car exhibition like The British Motor Show, which ended last week and was so well received by public, trade and industry that its 2023 dates (17-20 Aug) have already been confirmed.
For starters, there was the little matter of getting well over £100million-worth of cars delivered to the show venue. I was only responsible for receiving about half a million pounds-worth of vehicles for my busy Best Cars of the Year stand. But I was staggered by the lack of information trucking companies provide to their hapless drivers, some of whom – through no fault of their own – had next to no idea where they were supposed to be going.
One of these professional truckers working for a leading UK logistics company phoned me to say he'd arrived, parked his car transporter and was preparing to unload a vehicle or two for me at the "Farnborough International" venue his corporate employer had clearly (I saw the paperwork) dispatched him to. Trouble was, he'd been sent to Farnborough International Airport – a very different place to the Farnborough International Exhibition Centre, several road miles away. "This sort of thing happens all day, every day," he assured me.
So why should we care? Because it proves what I've long been saying – that a huge part of the road congestion, pollution, wasted fuel/time problem is solely down to countless drivers and riders hopelessly driving or riding around in circles searching for precise delivery/collection addresses.
Another dilemma for some truckers sent to pick up a minority of brand-new cars from stands at the Brit show was created by expensive, hi-tech models that were utterly and embarrassingly stuck, because of dead 12-volt batteries.
Question 1: In 2022, how the hell can a state-of-the-art, factory-fresh, manufacturer-supplied vehicle end up with a flat, useless battery simply because a few showgoers opened passenger and luggage doors/hatchbacks for a few hours?
Q2: Why do such fast-depleting batteries often result in cars being automatically unlocked and unlockable, leading to obvious safety, security and insurance issues?
Q3: To add to the frustrating insanity, such cars also go into 'locked/seized' parking brake mode, which meant they couldn't even be wheeled off or towed away from the stands where one or two of them were pathetically beached for hours, if not days.
I know – because I personally saw and photographed – the vehicles that were inexplicably, hopelessly and unacceptably stranded by flat-battery-syndrome or parking brake seizure long after our show closed its doors to the public.
The manufacturers – two European, one Asian – haven't yet explained to me why and how their cars seized-up, temporarily died and proved so difficult to be resuscitated or towed. I've given them a couple of weeks to complete their respective post-mortem results. When they get back to me, I'll report back to you.
Do you agree with Mike? Let us know your thoughts in the comments section...