Peugeot 108 safe from axe and could go all-electric
Peugeot boss reveals the 108 will stay in the brand's line-up, while also hinting there's interest in larger cars sitting above the 508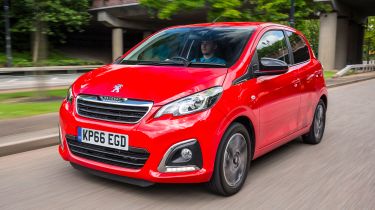 Peugeot boss Jean-Phillipe Imparato has confirmed that there's plenty of life left in its 108 city car - with an all-electric replacement a possibility - while larger models would be something he's interested in once parent brand PSA's merger with FCA is complete.
With some car makers already sounding the death knell for city cars, Imparato has said that his company will maintain production of its 108.
Speaking exclusively to Auto Express, Imparato said: "We decided some weeks ago that we will maintain the 108 in our line-up. Why? Because this car has reasonable success and because it's important - in the UK we are selling around six thousand cars a year.
"However, I don't want to lose money on any car in my line-up and I'm trying to protect the residual value of my cars at Peugeot. So we will maintain the 108 until the customer tells us 'No guys, we don't want it any more'".
While city cars are set to disappear from some makers' line-ups in the quest to cut average CO2 figures, Peugeot doesn't have that problem. "At the moment we're at a very positive CO2 level and we don't have to struggle in terms of CO2," said Imparato.
"Even if this segment isn't completely aligned with the CO2 offensive we are doing, if the customer wants the car, for the moment, we will continue with the 108 at around £10,000 to the market that want this type of mobility.
"If one day we have a huge question to face in terms of CO2 we take some other decision, but for the moment the market is asking for the car."
Imparato also hinted that the next generation of 108 would have to be electrified. "If it was to be replaced one day, I don't see any other solution than 100 per cent EV."
A new 108 wouldn't, however, share anything with the recently revealed Citroen Ami electric city car, with Imparato saying: "It's cool, isn't it? Ami is not a car, it's a device!
"For my colleagues in Citroen it's the right way to go. We are sharing a common vision in terms of PSA group, but each brand is writing its own story. Will we do something around that? It's not something for Peugeot on my plan."
It's possible that a new 108 could share a platform with the new Fiat 500 Electric, when the PSA/FCA merger is completed, however Imperato made it clear that no discussions on technology sharing are going on until the merger is completed. "I'm not studying anything around the platforms of FCA - we're in a period of merger of the operations and at that time it's forbidden to study anything during the merger. I'm happy to discuss after the closing of the deal."
However, Imparato did hint that larger Peugeot models sitting above the 508 - which sits on the largest version of PSA's EMP2 platform - could be a possibility using FCA tech when the deal is completed by 2021.
Asked specifically if larger cars were part of his plan, he said, "In terms of intention we will validate the upmarket move of the brand Peugeot - my global upper level mix is super-high - I'm selling 50 per cent of GT-line versions of my cars at the moment.
"The answer is starting to tell us that Peugeot can compete against others. I'm waiting for 2022 to have this sensation, especially in the B-segment and the D-segment, then obviously I will open the question box
"If this upmarket movement is confirmed, therefore Peugeot would be interested in some other cars, but it's another story in 2021."
Click here for our sister site DrivingElectric's rundown of the best small electric cars...